7
If you're trying to use the FaceTime feature on your new iPhone 4 and find that there are no on-screen buttons to tap or any way to access it, it's likely not available because you restored your new iPhone 4 with a backup of your previous iPhone, which for some bizarre reason disables FaceTime. You'll need to reactivate it in the iPhone's Settings (new iPhone 4 owners who don't restore from a backup have FaceTime accessible by default).
To activate FaceTime, you must go into the iPhone's Settings, scroll down and tap Phone, then slide the FaceTime slider to On, like thus:
After it's activated, you can make a FaceTime call by selecting one of your contacts and tapping the FaceTime button (see image below. FaceTime requires the other person to have an iPhone 4 or newer and FaceTime activated, and that you both be on a Wi-Fi network). You can also make a normal phone call, then switch over to FaceTime in the middle of it by tapping the FaceTime button. This might be a better way to instigate a FaceTime call, as you can get the caller's permission first (not everyone is ready to be on camera at a moment's notice).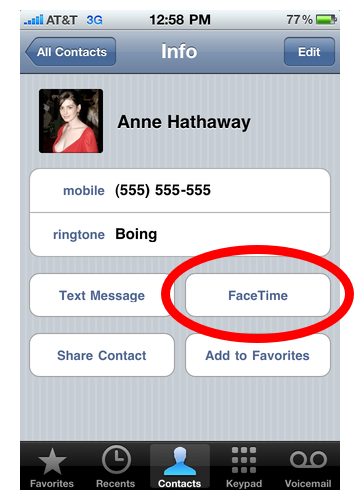 Be sure to check out more of our iPhone Tips.