0
Apple's iBooks app can read both PDF and ePub documents, but there are times when you'll want to convert your PDFs to ePub. Why? Because the ePub format is easier to read on smaller mobile devices, as the text is flowable, you can increase/decrease the font size, and you can highlight text and write notes.
To convert from PDF to ePub, you'll need to download the free application called Calibre (available for Windows, Mac, and Linux).
How to Convert PDF to ePub using Calibre:
1. Open Calibre. During the initial setup, you'll be asked for the type of device you'll be using. Choose Apple, then iPhone/iTouch + Stanza (don't worry, you won't have to use Stanza to read the ePub docs):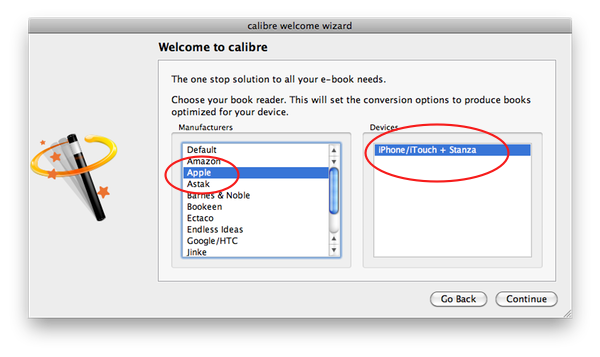 Finish the initial setup.
2. Click Add Books: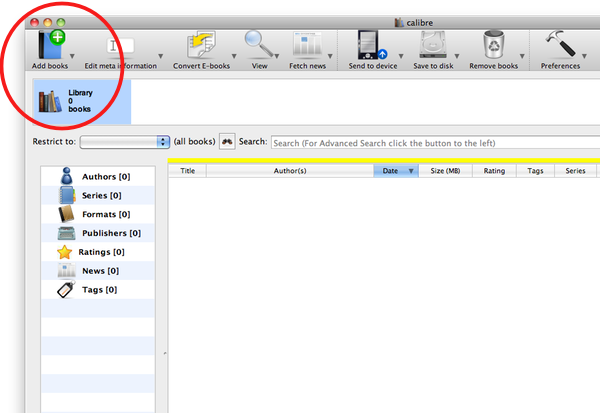 3. Find and select the PDF you want to convert: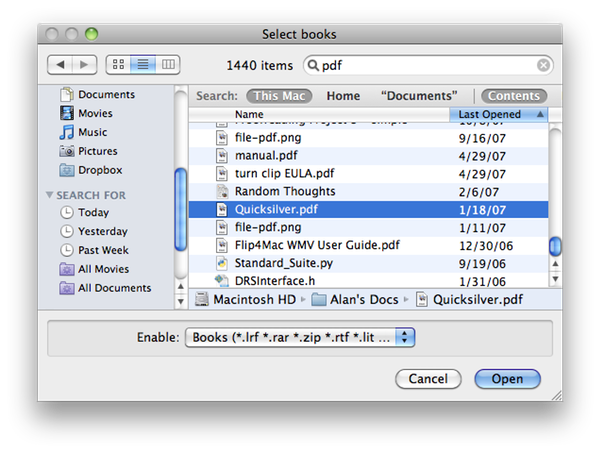 4. In the menu at the top, click the arrow next to Convert E-Books, and select Convert individually: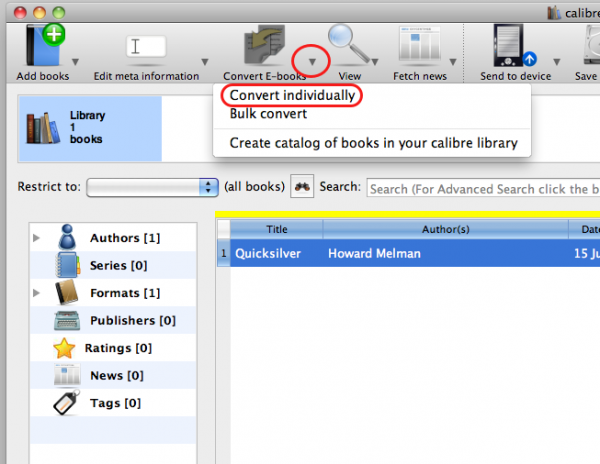 5. Click OK to convert to ePub:
6. Find the new ePub doc on your computer, and drag and drop it into iTunes:
7. Click on your device in the left sidebar of iTunes (iPhone, iPad, etc), then click the Books tab:
8. Make sure the Sync Books checkbox is checked, then select either All books or Selected books (if Selected books, be sure to check the checkbox next to your book):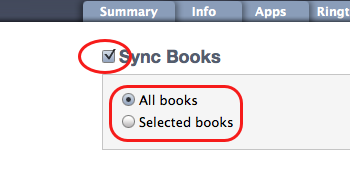 8. Sync your device, open the iBooks app, and start reading!
Other Features of Calibre
Calibre has a lot of other powerful features to play around with. If you're converting books, it can automatically pull in metadata info like author, publishing data, cover images, etc. To do this, select Download metadata and covers before conversion:
Calibre can also pull in the RSS feeds of websites and turn them in ePub eBooks. This might be useful if you like to take notes on interesting articles. You can do this using iBooks' Highlight and Notes features, then synch those notes across your various i devices (iPhone, iPad, iPod).
File Types Supported
Calibre not only supports conversion from PDF but many other formats as well, including:
Input Formats: CBZ, CBR, CBC, CHM, EPUB, FB2, HTML, LIT, LRF, MOBI, ODT, PDF, PRC, PDB, PML, RB, RTF, TCR, TXT
And Calibre can convert those documents to the following:
Output Formats: EPUB, FB2, OEB, LIT, LRF, MOBI, PDB, PML, RB, PDF, TCR, TXT
Problems With Converting PDFs to ePub
Unfortunately, converting a PDF into ePub can create some errors, depending on the quality of the source document and other factors. You can use another free application called Sigil to fix them. See our article on How to Create and Edit ePub eBooks.