0
Love to read? It's time to renew your library card because Amazon just introduced a sweet new feature for your iPad's Kindle App. You can now check out ebooks from over 11,000 public libraries across the US and sync them to your iPad via the free Kindle app. Here's a brief tutorial on how on how to check out the books and sync them onto your iPad.
Things You'll Need:
1. An active library account (you'll need your library card)
2. An Amazon.com account (and free Kindle account)
3. The Kindle iPad/iPhone app
4. A WiFi or 3G connection
How to Check Out a Kindle Ebook From the Public Library's Website and Sync It to the iPad:
1. Go to Amazon.com and log in.
2. Open up a new tab in your browser and go to your local library's website or use Google and search for a service called Overdrive on the library's site. This will give you access to the Kindle ebooks as well as audiobooks, movies, and even music. I use the Chicago public library so the address I go to is overdrive.chipublib.org. Log in to your library account. You'll most likely use your library-card number and your zip code.
3. Find an ebook to check out and make sure it is not already checked out: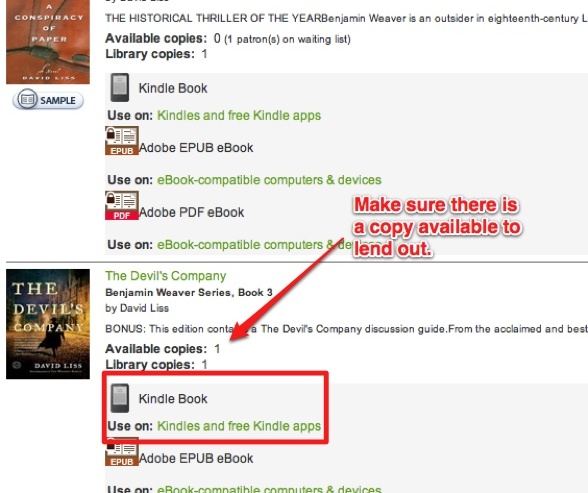 4. Click Add to My Cart then Proceed to checkout.
5. Once the ebook is checked out, click Get for Kindle:
6. This should launch the Amazon.com website and show you the Kindle book in your Amazon.com account. Click on the orange Get Library Book button on the right side of the screen, then choose which device to send it to in the drop-down menu (ex. Alan's iPad for my iPad). If you've never used the Kindle app before, you may have to register your device with Amazon first. Simply log on to Amazon inside the app.
7. Grab your iPad, make sure it's connected to the Internet, and open up the Kindle app.
8. If you haven't already, log on to your Amazon.com account inside the Kindle app. Tap the Sync button. If your don't see your book after the sync, it's waiting for you in the app's Archived Items. Tap on Archived Items, then tap on the book's cover to download it.
That's it, you've checked out a free ebook from your local library and synced it onto your iPad, for free! Easy peasy. Good reading.