0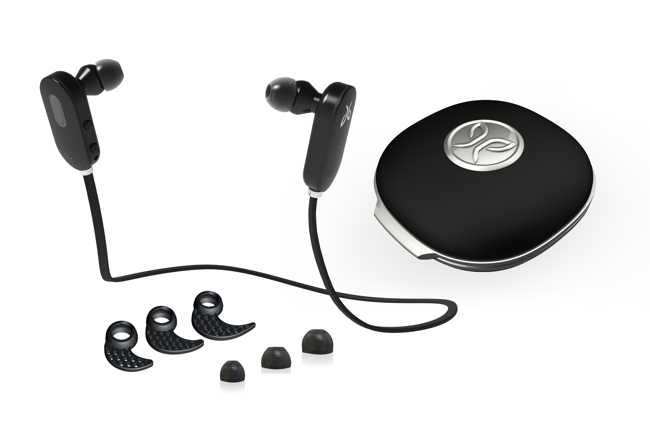 The JayBird Freedom 3 ($99) are sweatproof wireless bluetooth earphones designed for athletes, and they come with a lifetime warranty against damage from sweat. They also have a built-in microphone and three-button music/call controls compatible with the iPhone. As a runner who runs with my iPhone, I was excited to give them a spin, especially since I've yet to find a decent bluetooth earphone solution that will stand up to a good sweat drenching. The good news, so far, is that the JF3 look like they're it.
Durability is perhaps the most important attribute for sports headphones. More specifically, durability against sweat. I've been using the JF3 for 3 months now, and I've put them through a dozen long, sweat-drenching runs. So far, the JF3 remain unscathed. While the lifetime warranty against sweat damage gives me some peace of mind, it's still nice to know I won't be replacing them every 5 workouts, unlike other "sweatproof" earphones I've reviewed recently.
The JF3 get around 6 hours of continuous usage battery life (for music/calls) and 250 hours of standby. 6 hours isn't all that great for bluetooth headphones in general, but a compromise was likely made to keep the headphones lightweight, which they are, weighing around 5 ounces each (which is light for bluetooth earphones, not so much for regular earphones). 6 hours will get you through two maybe three workouts, but after that, you'll have to charge.
Sound quality is not top priority for sports headphones, but that doesn't mean they should sound bad either, especially if you're shelling out your hard-earned money. I'm pleased to say the JF3 are surprisingly good sounding earphones. They push a good level of volume for use in noisier environments and have a meaty lower end that should satisify bass lovers. If I had a complaint, it's that the mids and highs suffer loss of clarity, which is typical of bluetooth headphones. I've used them in both a noisy gym and while running outdoors, and never had a problem hearing music/podcasts nor a complaint for music sounding thin or weak. I would describe the sound quality as on par with the default iPhone earphones.
The JF3 have some nice design touches for athletes. The buttons are easy to use while running, meaning they are well located and tactile enough to be used blindly. There are 3 buttons in total, all on the right earphone. There's a large rubber call/music button in the center of the earphone, and two small volume buttons located on the upper rim.
The JF3's buttons can do just about everything the default iPhone headphone's buttons can do, although the functionality of the button presses is a little different. For example, to advance to the next music track with the JF3, you press and hold the volume-down button instead of double clicking, as you would with the default iPhone headphones.
The JF3 aren't exactly stylish headphones. You won't win any fashion shows with them on. Each earphone is the size of a large black Lego block. Combine that with the flat fettuccine-like neck cord that runs between them, and you've got a pair of awkward-looking headphones. It's like wearing two sets of bluetooth headsets (the ones designed for phone calls), which essentially you are. But I wouldn't call the JF3 a total monstrosity—the headphones are small enough that little children won't point and laugh at you as you run by, but you won't look cool either.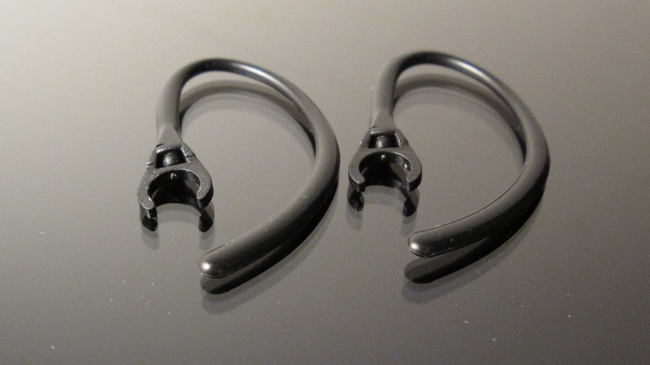 To keep the earphones from falling off while exercising, the JF3 come with a set of detachable earloops and 3 sizes of detachable earfins. The earloops wrap over the ear and won't allow the earphones to fall off. The earfins tuck inside the crevices of your ear and keep the eartips stable. The earloops are definitely the better performing of the two, and because of the extra weight from the built-in rechargeable battery and electronics, necessary for using the earphones comfortably.
One of the annoyances of the headset is a low battery indicator that will chime in the ear every 20 seconds when the battery is low. This basically makes the earphones impossible to use with a low battery. I'd rather have a more subtle warning and be able to completely drain the headset's battery.
The earphones charge via a USB cord. One end is a regular USB connector, and the other is a mini-USB, which plugs into the earphones. Unfortunately, there is no wall plug (ie, AC adapter, sold separately), so you'll need to charge it via the USB on your computer or other powered USB source. It takes about two hours to fully charge.
The JF3s come with a nice set of accessories. Included are 3 sets of different size eartips, 3 sizes of earfins, a pair of earhooks, a USB cord for charging, a cool clamshell-style carrying case with a magnetic clasp.
Gallery:
Review Summary
The JF3 are the first bluetooth headphones I've come across that I can highly recommend for athletic use. They are durable against sweat (and come with a lifetime warranty against sweat), they sound good for bluetooth earphones, and they get every design element right for use while running and exercising.
Pros:
Sweatproof
Comes with lifetime warranty against sweat damage
Detachable earloops and earfins for sport usage.
Good bass and solid level of sound for use in noisy environments.
Tactile buttons allow for comfortable use while running.
Three-button controls and microphone mean they're iPhone compatible.
Nice hardshell carrying case.
Cons:
Awkward looking
Average battery life (around 6 hours for music/call usage)
Heavier than most non-bluetooth earphones
Annoying low battery sound makes earphones impossible to use with low battery
Slow to charge