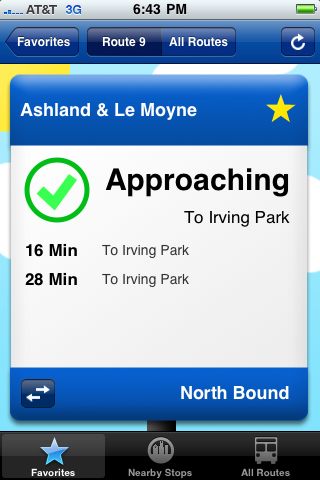 Buster: the Chicago Bus Tracker ($0.99, iTunes link) is an amazing little app that lets you know when a bus is going to arrive at a bus stop. As a Chicagoan, I can tell you this drastically changes the experience of using buses in the city, and could be game changing for all mass transit if they implement similar networked GPS technology.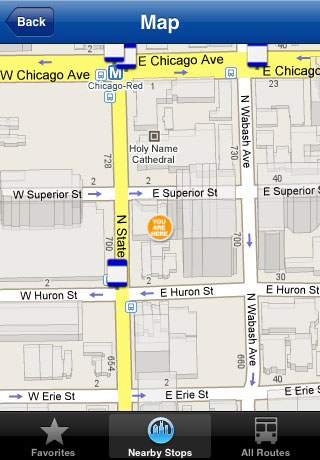 Before the city put GPS locators on CTA buses, it was a hassle taking the bus. You'd never know if it was arriving in 5 minutes or 45 minutes. So there you'd stand on the sidewalk, freezing in the Chicago cold or burning in the heat, waiting for a bus as hundreds of cars drive by gawking at you.
Not any more. Simply select the bus stop, and the app will tell you when the next bus is arriving so you can dash and catch it, or do something else while you wait. After using it for the past two months, I can tell you it's accurate down to a minute or so.
If you're not sure of a stop's location, the app uses the iPhone's GPS to list the nearest bus stops, which is extremely useful if you're in a strange part of town. You can even save a list of your favorites for quick access. The app also distinguishes between north/south and east/west traveling buses.
The app can be a money saver for Chicagoans who, like me, pay a single monthly fee for unlimited rides on the city's trains and buses. Buses should be a more convenient travel option for city dwellers because their routes blanket most of the city (trains travel to only a portion of the city). But buses could be big time wasters, as often it could take an hour just to go 5 blocks (counting wait time). Most people are forced to take more expensive taxi rides simply for the convenience. Now I feel much more comfortable taking the bus, as my time isn't wasted and I don't have to suffer the elements as much.