The App Store is cluttered with iPhone GPS apps, and sorting through them is a daunting task. This guide is designed to cut through the clutter, gather all relevant info in one place, and aid you in making the best choice. We also take a look at the strengths and weaknesses of iPhone GPS vs personal navigation devices, and which accessories you'll need to have the best iPhone GPS experience.
What Is the Best iPhone GPS Navigation App?
GPS apps are constantly evolving as developers add new features, iron out bugs, and tweak interfaces. Currently, the two best reviewed apps in their class are Navigon MobileNavigator ($49.99, iTunes link) and MotionX GPS Drive ($0.99, iTunes link).
Navigon MobileNavigator has long been the premiere navigation app on the iPhone. It been polished by several updates and has all the premium features (voice directions with street names, landscape mode, lane assistance, iPod controls, etc) you'd expect, along with clean, easy-to-read graphics. Recent additions are live traffic, 3D view, and ZAGAT content, which all cost extra (in-app purchases). Tech luminaries like Gizmodo (review) and Walt Mossberg (review) have chosen it as the best iPhone nav app, and it's also the highest rated by App Store reviewers. Two other solid navigator apps worth checking out are >TomTom and, surprisingly, AT&T Navigator, which MacWorld recently rated the best nav app (but which has below average App Store reviews).
MotionX GPS Drive is all about value and price. At $2.99 a month, it's a huge bargain, but it doesn't come with stored maps. Instead, you must have a data connection and download maps as you go. But it does offer voice navigation and some sweet iPod controls. Tech journalist Andy Ihnatko named it his favorite iPhone GPS app, and Gizmodo called it "hands down the best value in GPS apps." Blog iPhone JD has a thorough review of the app. It's your best low-cost choice.
A List of All iPhone GPS Apps
| Screenshot | Name | Price | Stored Maps | App Store Rating |
| --- | --- | --- | --- | --- |
| | AAA TripTik | Free | No | |
| | AT&T Navigator | $9.99 a month or $69.99 a year. Billed through AT&T Wireless (not iTunes) | No | |
| | CoPilot Live USA | $4.99 | No | |
| | CoPilot Live North America | $19.99 | Yes | |
| | CoPilot Truck North America | $149.99 | Yes | |
| | Forever Map by Skobbler | $0.99 | Yes | |
| | Garmin StreetPilot | $39.99 | Yes | |
| | GoKivo GPS Navigator by Networks In Motion | Free with 30-days voice free. $9.99 a month for voice | No | |
| | Navigation for North America – iGo My Way | $54.99 | Yes | |
| | Magellan RoadMate North America | $59.99 | Yes | |
| | Magellan RoadMate USA | $49.99 | Yes | |
| | MapQuest 4 Mobile | Free | No | |
| | MotionX GPS Drive | $0.99, includes 30-days free voice guidance, $2.99 a month for voice, $19.99 for 1 year of voice | No | |
| | NavFree USA | Free | Yes | |
| | Navigon MobileNavigator North America | $59.99 | Yes | |
| | Navigon MobileNavigator US MyRegion Central | $29.99 | Yes | |
| | Navigon MobileNavigator US MyRegion East | $29.99 | Yes | |
| | Navigon MobileNavigator US MyRegion West | $29.99 | Yes | |
| | Roadee | $1.99 flat fee | No | < |
| | Skobbler | Free | No | |
| | Sygic Mobile Maps North America | $29.99 | Yes | |
| | Sygic Mobile Maps U.S. GPS | $19.99 | Yes | |
| | TeleNav GPS | Free. 30-days voice directions free. $2.99 for 30 days. $21.99 a year. | No | |
| | TomTom U.S.A. | $49.99 | Yes | |
| | TomTom U.S & Canada. | $59.99 | Yes | |
| | Waze | Free | No | |
| | XRoad G-Map USA & Canada | $49.99 | Yes | |
Personal Navigation Devices (PNDs) vs iPhone Apps
Before you spend a lot of money on an iPhone GPS app, you should consider a second choice: buying a personal navigation device (PND). Which is better? There's no simple answer, but the comparison can be summed up like this: PNDs offer better overall performance due to superior GPS hardware and a single-purpose design, while the iPhone can offer greater convenience and a few GPS-related features not available on most PNDs. Everyone has their own unique lifestyle, and one solution may not be perfect for all. But my general opinion is to go with a PND over an iPhone app because of a PND's ability to render superior real-time GPS locations. In any case, you should make up your own mind, and the following information may help you do so.
Performance. This is the most important category to consider in your purchase, and PNDs win here. Why? Superior, dedicated hardware and design. In general, PNDs ship with more powerful and accurate GPS chips inside compared to the iPhone's. The iPhone contains an Infineon PMB 2525 GPS chip, which is built smaller and more energy efficient to fit inside cell phones. This smaller size translates into weaker performance when compared to the dedicated GPS chips used in PNDs. A good measure of a GPS device's accuracy comes when you make a wrong turn in your car and the GPS device must rediscover your location and direction, then recalculate new driving directions. A standard PND will perform these tasks much quicker than an iPhone thanks to its superior hardware.
Hardware. PNDs have several hardware advantages over the iPhone. First, PNDs have much larger screens, which make maps and directions easier to read. PNDs have speakers that are much louder than iPhone's mono speaker. A common complaint about the iPhone is that sound from its speaker can't be heard over car noise. PNDs also come with car mounts and chargers; with the iPhone, they must be purchased separately.
Assisted GPS. From a cold start, the iPhone can acquire a GPS location much quicker than PNDs. A common complaint of PNDs is that there is often a wait of several minutes until they can acquire and calculate an exact position. The iPhone, on the otherhand, takes advantage of its cell signal and utilizes something called Assisted GPS (AGPS) to discover its position quicker. AGPS uses cell phone towers as a kind of cheat sheet to help narrow down the iPhone's location so less satellite info is required for GPS calculations.
Live Traffic. The iPhone's wireless Internet connection can pull in information like live traffic info. For PNDs, a wireless Internet connection is only available on the more expensive units.
Conveinence. One area the iPhone has the clear advantage in is convenience. The iPhone offers the simplicity of carrying one device (the iPhone) rather than two (a phone and a PND). The iPhone is multi-functional. It can play games or access Facebook or make fart noises. Due to its smaller size, the iPhone is more portable than a PND. Most people carry their iPhone in their pocket or purse everywhere they go. An iPhone GPS app could come in handy at times when you would have left the PND behind.
Price. PNDs have slowly become cheaper over the years to where now you can easily find units well under $100 (a TomTom can be had for $70 from Amazon.) The low price entry point for PNDs makes the price of some premium GPS iPhone apps, like $99 for the TomTom app, seem ridiculous, as you're only paying for software. With a PND, $99 gets you software and hardware. It should be noted that there are some iPhone GPS apps as cheap as $3, but that's a monthly fee and these apps come with a catch: you can only access the maps over an Internet connection (see Offline Maps vs Download-As-You-Go Maps section below).
Stored Vs Download-As-You-Go Maps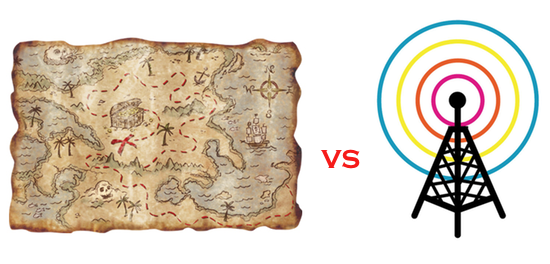 There are two types of GPS apps for the iPhone: those that offer offline maps (maps that are available offline and that you download in one big file to the iPhone) and those that require you to download maps as you go. The download-as-you-go approach is an inferior method because it requires the iPhone to have a data connection. If you've ever driven long distances with your iPhone, you'll know there are huge stretches of road in rural areas with no signal. Apps that use offline maps are much more dependable, as the maps are stored locally on the iPhone, and thus, the app only requires a GPS signal in order to function. Because GPS signals are broadcast by satellites, they are accessible anywhere your device has a clear path to the sky.
Accessories You'll Need
There are 3 highly recommended accessories you should purchase if you're going to use an iPhone GPS navigator app:
Car Mount
Car Power Adapter
Audio Cable
A car mount lets you secure the iPhone in a variety of locations. Some car mounts attach to your windshield via a suction cup. Others use a two-sided tape to mount the base to dashboard. An iPhone car mount we recommend is the Kensington Dash Mount ($25, review).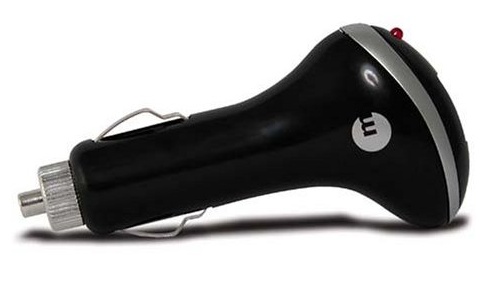 A iPhone-compatible car power adapter that plugs into your car's cigarette lighter is very important as there are few apps that will burn more power than a GPS app. Nothing's more frustrating to an iPhone user than a dead battery. I use the Griffin PowerJolt ($15) adapter.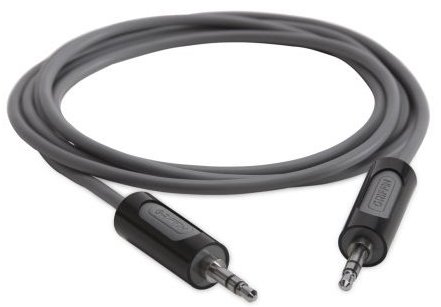 An audio cable can connect your iPhone to the car stereo and play the iPhone's audio over the car's speaker. This is important because the iPhone's speaker by itself isn't loud enough to be heard clearly over car noise. Check that your car stereo has a stereo-in jack first before buying, of course. Some more expensive car stereos also support stereo Bluetooth. A good, long audio audio cable is the Monster 7-foot Audio Cable> ($12).
You may also like...