The latest version of iTunes has added the ability to give apps to friends and loved ones with a new feature called Gift This App. This feature should particularly come in handy with those paid apps you want someone to try out but couldn't quite persuade them to pony up for.
How to Gift an App
1. To gift an app, you'll need a iTunes account with a credit card attached.
2. Find an app you want to give and click on the arrow next to price. A drop-down menu will appear. Click Gift This App.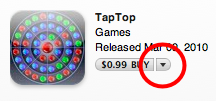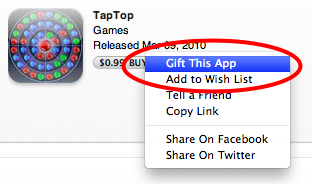 3. A form will appear that will, at the top, ask you whether you want to send the gift as an email, or if you want to print out a certificate and present it in person. For email, the recipient will receive a link they'll click to download the app. For the printed-out certificate, the recipient will be given a redemption code they must enter into iTunes in order to receive the app. Choose one of the options, then fill out the fields in the form:
4. If given via email, the recipient will receive the gift via an email that looks like this: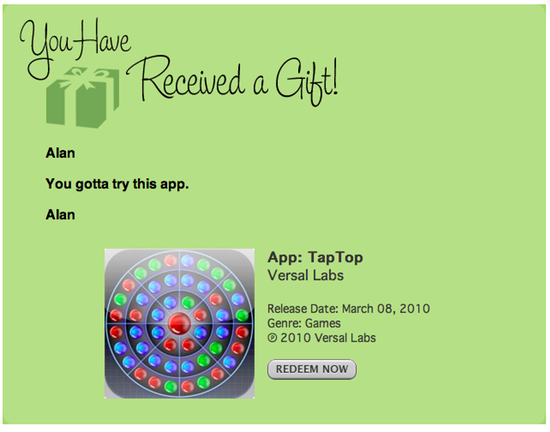 5. The recipient clicks the
Redeem
button in the email, which launches iTunes. They'll be prompted to log in, then the app will automatically start downloading.
6. If you're presenting the gift in person via a certificate, the app will be given in the form of a gift code the recipient must enter into iTunes. To download the gift, the recipient must click the Redeem link, which can be found on home page of the iTunes Store at the top right:
7. The recipient then enters in the code and clicks Redeem. They may be asked to log in if they haven't already, then the app will begin to download. To be clear, this isn't gifting money like a gift card. It's gifting that specific app. Note that the recipient can also download the app directly the on iPhone, iPod Touch, or iPad by using the Apps app.