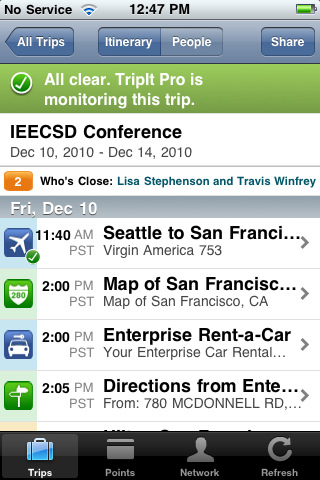 Keeping track of important travel info like flight times, addresses, check-in dates, etc, can be a huge hassle when traveling. TripIt – Travel Organizer (free) simplifies things by bringing all your travel info together in one place. It does this by stripping information from travel confirmation emails that you forward to the service. It's like having a secretary who creates a travel itinerary for you. Quick and simple with additional information like flight status and Google Maps, TripIt is a killer time-saving app for travelers.
TripIt has been around as a website for a while now, but like many such services, its usefulness really blossoms when brought to a mobile platform like the iPhone. TripIt offers a free account, which you can sign up for in the app and which I'm reviewing here. They also offer a Pro account that costs money but offers more features.
The way TripIt works is simple: whenever you receive an email confirming reservations for airline tickets, hotel rooms, Priceline.com, etc, just forward the email to plans@tripit.com (you'll need to forward from the email address you assigned to the TripIt account). TripIt takes over from there, stripping out the important data and compiling it into a travel itinerary accessible in the app.


The app allows you to do some powerful things with that info as well. For example, you can tap on your flight reservations to find the current status of your flight. Any address (hotels, restaurants, etc) can be tapped to bring up its location on Google Maps as well as directions from your current location using GPS. Phone numbers can be dialed by tapping on them. And information such as transaction confirmation numbers, flight numbers, seat numbers, etc, is stored in the app as well.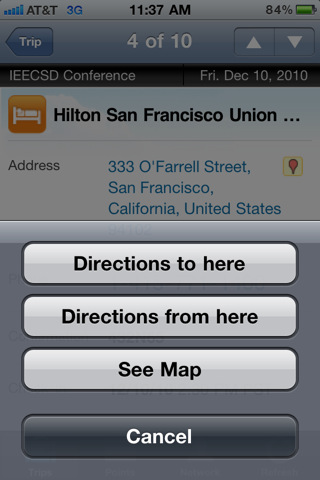 I used TripIt on a recent vacation and it saved me a lot of organizational headache. I'm usually pretty anxious when it comes to catching flights, etc, so whenever I wondered, "What time does my flight leave again?" or "When am I supposed to check into the hotel?", I just whipped out my iPhone to check. It's a much more simple experience than digging through a carry-on bag and sifting through travel documents. I just pulled the iPhone out of my pocket, saw if my flight was on time, and I was on to worrying about something else.
TripIt offers a "Pro" version of their service that provides features like alerts for important flight info and Rewards Point Trackers, features that are accessible in the iPhone app. The Pro service costs $49 a year (there is a free 90-day trial if you want to test it out.