You may know that the iPhone can play a sound (called an alert tone) whenever you receive a text message, but did you know the alert tone can repeat up to ten times in case you missed it the first time? You'll need to dig down into the iPhone's settings to set it up. The following are step-by-step instructions on how to get your text-message alert tones to repeat.
1. Open Settings:
2. Tap Notifications:
3. Tap Messages (you may have to scroll down to find it):
4. Scroll down and tap Repeat Alert: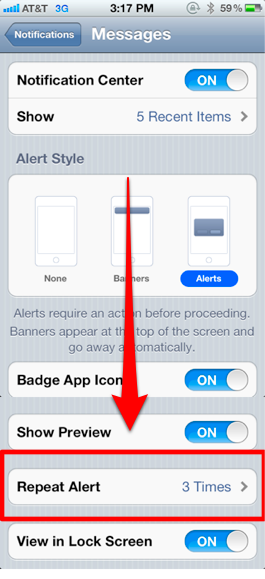 5. Select how many times you want the sound to repeat*:
*Note that Never means an alert will indeed play, but you'll only hear it once (in other words, it won't be repeated).
That's it, you've now set up repeating alert tones on the iphone.
Notes and Troubleshooting:
Alert tones will repeat every two minutes.
To stop alert tones from repeating, simply press the sleep button or unlock the iPhone.
If you want to completely turn off Sounds for text messages, you'll need to do that in Settings–>Sounds–>Text Tone and select None.
You can use any ringtone as an alert tone. You can even buy alert tones from the iTunes Music Store (you'll need to use the iPhone's iTunes Music Store app to access the alerts).
Are the alert tones not working at all? Confirm these three steps:
Go to Settings–>Sounds–>Text Tone and make sure an alert tone is selected (in other words, make sure None is not selected.
Make sure the iPhone's ringer/mute switch is set to an On position.
Make sure the Ringer and Alerts volume is turned up. The volume controls are found in Settings–>Sounds–>Ringers and Alerts