The last thing an iPhone owner wants to see is the iPhone's pretty glass smashed and splintered. Drop it the wrong way, and that's exactly what happens. For peace of mind against such damage, there are really only two options: you can buy a thick protection-focused case, or else you can shell out $99 for Apple's insurance plan, AppleCare+ for iPhone.
One choice for a protective case you might consider is the G-Form X-Protect for iPhone 4 & 4S. The X-Protect is composed of a mushy foam material called Poron XRD that can absorp up to 94% of impact energy from accidental drops. This material is soft to the touch and squeezable, but upon impact, it compresses and stiffens up, eating up the impact's energy.
While shock absorption is nice, there are many other elements that go into making an excellent iPhone case. Below are my video and text reviews for the G-Form X-Protect Case.
Video Review
Text Review
Protection. In the area of shock absorption, the X-Protect really is one of the better protective cases out there. The foam material is thick, and it's thick in the right places. A bit of clever design places chunky pads in the iPhone's four corners, known as the impact points (see below).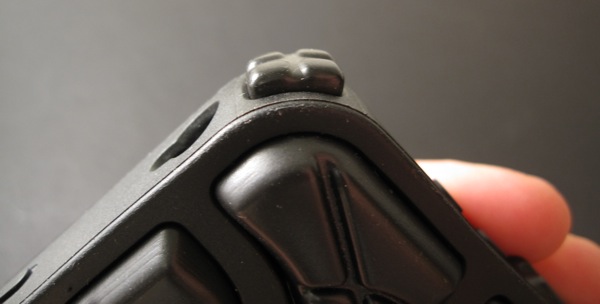 If there is one flaw for this case in the area of protection, it's that it just barely protects the iPhone's front screen with a raised rim, which sticks out a millimeter high above the screen. The rim is thick and high enough that it takes on some absorption should you drop the iPhone completely flat on that side, but the rim is not made out of the same shock-absorping material. And really, the sad truth of almost all iPhone cases is that if you drop your iPhone's front screen on a well-placed stone or corner of a coffee table, it's bye-bye screen. (One exception is the Otterbox Defender, which provides protection for the screen as well).
Design. The X-Protect is composed of two sections of case that interlock with each other to form the whole. One section is the shock-absorbing foam, and the other is a rigid plastic frame that the foam locks into. The frame is made of a slightly bendable plastic and has intersecting, X-shaped bands that provide the case's unique look. The foam sticks out through these bands, creating unique 3D contours like something from the Aliens movies.
Inner lining. A nice subtle feature of the X-Protect is a soft fabric inner lining that prevents the case itself from scratching the iPhone. Case makers often ignore the inner part of the case when, in fact, the case itself can be a danger to scratching the iPhone.
Accessibility. The X-Protect provides excellent accessibility to all the iPhone's buttons, switches, and ports. All of the iPhone's buttons work as expected when pressed, despite being covered up by the X-Protect's simulated rubber buttons. The iPhone's camera is likewise unencumbered, as there is a nice large cutout area around the iPhone's camera to provide plenty of clearance for the flash to do its job (but who uses the iPhone's flash anyways?). The iPhone's dock-connector USB cord plugs in with no problem, and the iPhone's speaker and microphones are uncovered to allow sound to pass through. The only negative in accessibility is that you can't use a dock with this case.
Weight & Size. While the X-Protect is lightweight, it is quite bulky in size. It nearly doubles the iPhone's thickness and adds a few millimeters to its width as well. Despite its bulkiness, it was still pocketable in my loose jeans, but wearers of tight jeans might not able to slip this one into their pockets.
Grip & Feel. One of the benefits of the X-Protect's unique contours is that it dramatically improves grip. It is also a comfortable case to hold once you get used to the mushiness of the foam. And the mushiness does take a little getting used to. At first, it's like holding a squeezable stress toy. That could be a plus, depending on your stress levels. While the feel is unusual compared with most other cases, I quickly got used it.
Looks. Although the X-Protect's masculine sci-fi look is love it or leave it, I do have a complaint about its aesthetic construction. The frame around the iPhone's screen, which ideally would be a perfect rectangle, has a crooked look because it's made out of bendy hard plastic. It gives the case somewhat of a cheap look when the iPhone is laid on its back.
Image Gallery:
Review Summary
If you're looking for a unique and highly protective case, the G-Form X-Protect is one of the better protective cases out there thanks to its high-tech foam. Its main downside is its bulk, but the case is otherwise well designed, allowing you to use all the iPhone's features without obstruction. Thanks to its foam material, the case's overall mushy feel takes some getting used to, but if you would like to lovably squeeze your iPhone instead of feeling its cold edges dig into your palm, you can get used to it. Rating: 8.5 out of 10.0.
Pros:
Excellent shock absorption thanks to its high-tech "Poron XRD" foam.
Good accessibility to all of the iPhone's buttons and ports.
Lightweight for its size.
Improves grip.
Cons:
Bulky.
Front-screen rim has a saggy look to it.