When it comes to catching a plane, FlightTrack Pro ($9.99) is one of the best apps out there for keeping you updated on departure/arrival times. But since its $10 price tag is a barrier of entry to some, the developers have released a free version, FlightTrack Free (link), that offers some of the basic functionality of the Pro version.
FlightTrack Free's simple interface makes it quick and easy to find updated takeoff and arrival times for airline flights. It's neatest trick is that it can also show an animation of exactly where a specific plane is on a map during its current flight. You can enter in a specific flight number, or browse all flights leaving from a specific airport to a specific destination. There is even a random flight button if you think departures and arrivals are super fantastic fun.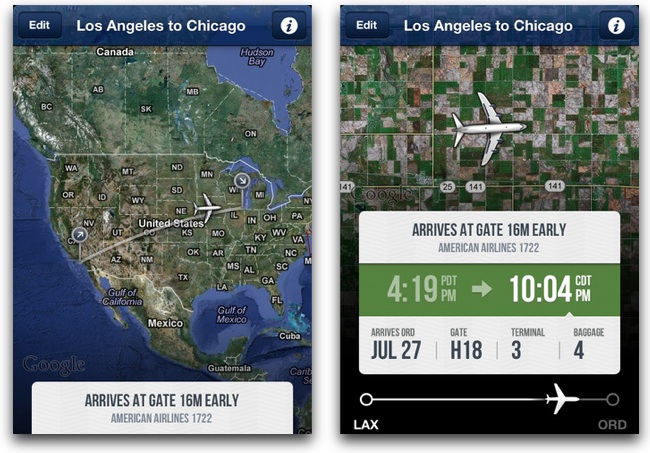 The free version is, of course, missing some of advanced features of the Pro version, like push alerts, but if you're a casual flyer, the free version could still come in handy. And, it's interface is simple and good-looking.
FlightTrack Free is available as a free download from the App Store.
App tip: Swipe down in the flight view to zoom out and get a animated view of the plane's progress and flight path.