When importing photos from my iPhone to the Mac, I've found the default method—using iPhoto—to be slow and clunky. There is a better solution, however. It's called Image Capture, and it's built right into the Mac.
Image Capture is a fast and lightweight application that comes with every modern Mac. The application can import photos and video from cameras, iPhones, and other devices. Just connect your device to your Mac, launch Image Capture, and import. It runs much, much, much faster than iPhoto. You can import all photos/video at once, or choose only select photos. And perhaps best of all, you can even choose the photos' destination—for example, the desktop or a specific folder—something iPhoto won't let you do.
Extra Tip:
You can have Image Capture automatically open whenever you connect your iPhone to your Mac, speeding up the photo-import process even more. Here's how.
1. Open Image Capture and connect your iPhone to your Mac.
2. In Image Capture, make sure your iPhone is selected (highlighted) in the left column:
2. Click the icon in bottom left corner of Image Capture: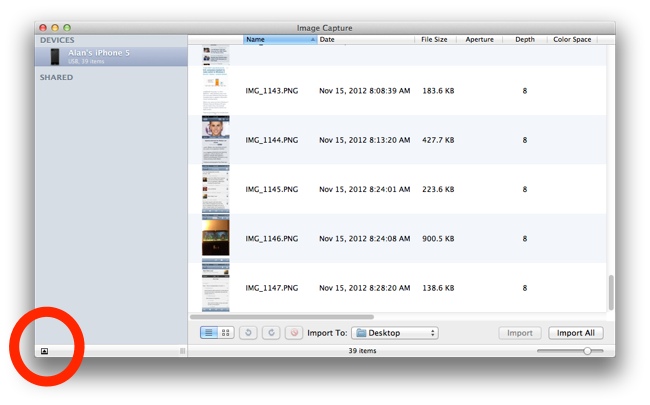 3. Click on the drop-down menu beneath the text Connecting this iPhone opens: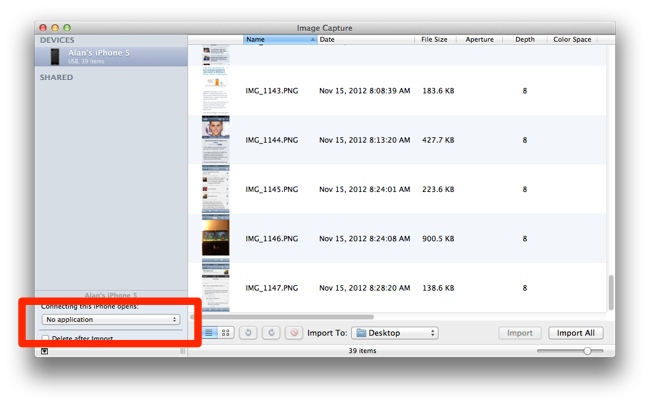 4. Select Image Capture:
And that's it. Image Capture will now automatically launch whenever your connect the iPhone to your Mac.
Extra Note:
Image Capture lets you delete photos off your iPhone without importing them first, something iPhoto will not let you do. So if you just want to delete all of your iPhone photos at once, or a select few, this is a great solution.