Review Summary
---
Price: $15
Art of the iPhone's Rating: ★★★★★
(5 stars out of 5)

Review Summary: The iStabilizer is a handy tool that provides a quick and hassle free way to attach the iPhone to a tripod. Highly recommended for its ease of use and versatility. It works with any 1/4″ x 20 tripod screw (which is standard).
Reviewed by: Art of the iPhone
The iStabilizer ($15) is an inexpensive solution for attaching your iPhone to a tripod, and you can do so without removing your iPhone case or using any special equipment other than the iStabilizer itself. The iStabilizer is a simple clamp-like tool that can screw into any standard tripod and hold any current or past version of the iPhone in its pinchers, as well as a bunch of other small devices (iPods, small cameras, etc). It's a great idea because the iPhone's camera is capable of taking high quality photos and videos. But does the iStabilizer perform well in the field? Read on to find out.
In a nutshell, the iStabilizer works great. I tested it with my iPhone 5 and my camera tripod (which I bought for $25 from Amazon and which I can recommend if you're looking for a cheap tripod). The iStabilizer's best characteristic is how quickly and easily the iPhone can be taken in and out of its clamps. In fact, I wish most cameras could be attached/detached from tripods so easily.
How It Works. The iStabilizer will work with any 1/4″ x 20 tripod screw (the standard for modern tripods). You simply screw the iStabilizer onto the tripod and its ready for the iPhone to be inserted.
To place the iPhone inside the iStabilizer, you pull up on a tab, raising one of the iStabilizer's clamps enough to slide the iPhone inside, then you let go and the iStabilizer clamps down on the iPhone with a firm grip. The grip is tight enough that you can move the tripod around and not have any fears the iPhone will slip out. You can even hold it horizontal or upside down, and the iPhone stays in it (view examples of this in my video review).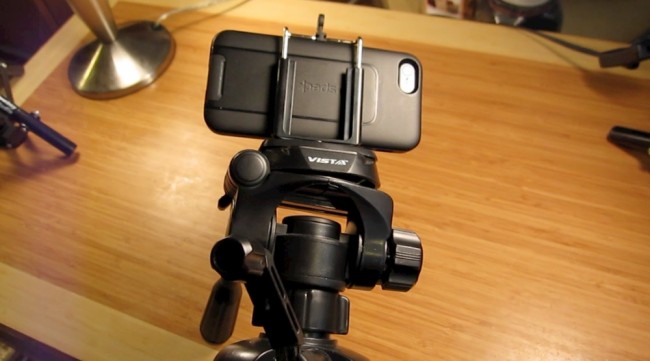 In a nice design touch, the clamps are padded with rubber so that they won't damage the iPhone, in case you aren't using a case. Which leads me to another nice element of the iStabilizer: it will work with just about any iPhone case, no matter how thick.
The iStabilizer pinchers can stretch to hold objects with a 2.75″ width or less. The iPhone 5 has a width of 2.31 inches, so that leaves an extra 0.44 inches, which is plenty for an iPhone case. The extra room also means the iStabilizer can work with other devices as well, like iPods, other smartphones, or even small cameras (it worked with my Canon PowerShot SD960 camera). There is also a iStabilizer Mount XL for larger smartphones, and they're working on an iPad version.
Another nice aspect of the iStabilizer is that it leaves the iPhone's screen unobstructed, meaning you can still tap and swipe the screen to utilize the features of whatever camera/video app you're using to film.
Conclusion
The iStabilizer ($15) is a great, inexpensive solution for attaching your iPhone and other small devices to a tripod. It holds fast to any device in its grasp and won't damage the device thanks to protective padding on its pinchers. My favorite feature was how quickly and easily the iPhone can be removed from the tripod, which is nice because the multitasking iPhone is more than just a camera, and even while taking photos I'll need access to it for other functions as well.