0
Most people don't use their iPad Smart Cover as a stand because, well, frankly it sucks as a stand. It offers only two angles to view the iPad at, and neither of them are particularly useful. The Smarter Stand seeks to remedy that situation. Smarter Stand is actually two plastic clips you attach to the Smart Cover to add 3 more viewing angles. It's simple, cheap, and ingenious.
The Smarter Stand works like this: you slide the two plastic clips over the joints of the Smart Cover where it folds. The clips prevent the joints from folding, and thus through the simple laws of geometry and physics, the iPad can be propped upright at 3 additional angles. See the chart below for the positions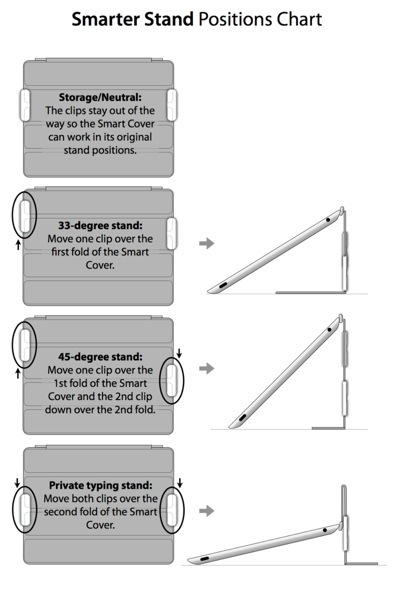 Smarter Stand is a successfully funded Kickstarter project that is going to ship (they sent over some samples that work as advertised). The clips can remain on the cover during normal use. Currently, $12 will get you a Smarter Stand in white. $14 will get you a color to match your Smart Cover's color.
Video:
Image Gallery: