The upcoming iOS 7 software update is more than just a fresh coat of paint, there are many new useful features that will improve or enhance our lives. Below, I rank 10 new iOS 7 features that I think will be most useful to iPhone owners.
1. Background App Refresh
In iOS 7, apps will now be allowed to periodically refresh (download data) in the background. This will drastically improve user experience for about a bazillion iPhone apps. For example, wouldn't it be nice to have an updated weather forecast waiting for you when you open the app—do you know how many times I've been fooled by an old forecast in the iPhone's notification center? Facebook, Twitter, and numerous other apps will be all the more pleasant to use when updated info is sitting there waiting for you instead of you waiting for it. The downside to this feature will be higher data usage, but Apple has a plan for that, too (see #9 in this list).
2. Control Center
Control Center will let you quickly and easily control commonly used iPhone features like bluetooth, Wi-Fi, etc, (see full list below). We will no longer have to laboriously tap-tap-tap down several layers down into the iPhone's Settings to turn certain features on and off. Control Center gathers them all in one place, accessible with a single swipe upward from the bottom of the screen, anywhere, anytime. The features you'll have quick access to in Control Center are:
Airplane Mode
Wi-Fi
Bluetooth
Do Not Disturb
Screen Lock
Screen Brightness
Music/Audio Controls (volume, play, pause, forward, back)
AirDrop
AirPlay
Flashlight
Clock
Calculator
Camera
3. Spotlight Search Available in More Places
If you're not using Spotlight to launch apps, you're working harder than you need to. iOS 7 will bring access to Spotlight to any of your home screens—simply swipe down from the middle of the screen to make the Spotlight search field appear. One of iOS's most used (and useful) features made easier and more accesible? Yes, please!
4. New Siri Commands and Design
You'll be able to tell Siri to do even more stuff in iOS 7, chief among them turning various iPhone features on and off like Bluetooth and Wi-Fi—you can even lower or raise screen brightness by voice command. Imagine waking up at night an telling Siri to "turn on the flashlight." Siri is also getting a new, more useful look. How can "looks" be more useful? Well, how about a soundwave animation that lets you know Siri is listening. Do you know how many times I've talked to Siri only to discover she's been ignoring me? No longer a problem thanks to the new visual feedback. Siri will also show search results from Wikipedia, Bing, and even Twitter on the same screen, meaning, without kicking you out into another app.
5. New Multitask Switcher
iOS7's new app switcher displays a screenshot of the last state the app was in when you left it, which means you can scan through info displayed by apps more efficiently, which translates into more efficient multitasking. You'll also be able to force quit apps by just swiping upward in the switcher view. No more waiting for the jiggle, then tapping the small x.
6. Unified Search & Address Bar in Safari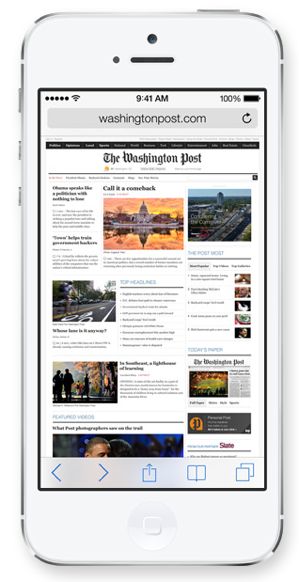 Safari will get a unified search/address bar in iOS 7, meaning no more separate fields to enter URLs and Google searches, both go in the same place. If you already use this in your desktop browser, you'll know how convenient and simple this subtle but powerful tweak is.
7. iRadio
iRadio may already exist in the form of apps like Pandora, but you can be sure that iRadio will have some benefits over its competitors thanks to being built into the iPhone; for example, like being able to tell Siri to launch a radio station. Another cool feature of iRadio is that you'll be able to tweak the song mix toward more popular hits or toward discovery of lesser known songs. The "Trending on Twitter" station will also help with music discovery. iRadio will start off with around 200+ preset stations to choose from in addition to the ability to create stations based on artists and songs you like.
8. AirDrop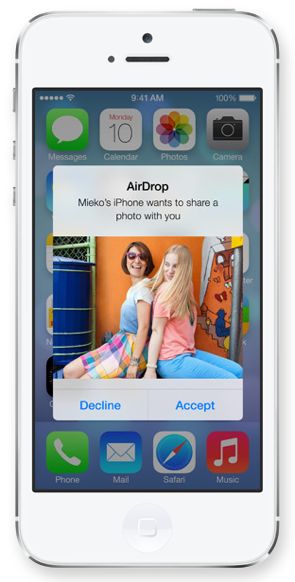 AirDrop will allow for file sharing between iPhones, without the need for a wireless network, meaning you don't need a Wi-Fi router between you and the other device you're sharing with. AirDrop will connect directly to another iPhone (or iPad or Mac) using a direct adhoc Wi-Fi connection. I not sure how much use I'll get out of AirDrop personally, but I know developers will get creative with the functionality—maybe game developers will let you share items like weapons or heroes via AirDrop to add a in-person social element.
9. Per-App Data-Usage Tracking and Control
In the land of superfast LTE connections, it's easy to burn through your monthly data allotment, especially if you are a YouTube junkie like me. This new iOS 7 feature will let you find out which apps are burning up your monthly data and even turn off data flow to those apps. Because Apple is letting apps automatically refresh data in the background in iOS 7, per-app data control will be more important than ever.
10. Activation Lock
Activation Lock will make iPhones less of a target for thieves and thus much safer for everyone to use in a sort of a passive way, simply by making it more difficult for a stranger to make use of a lost or stolen iPhone. Currently, stealing an iPhone is an easy $200-$400 for a thief—all it takes is a reset to factory settings in order for an iPhone to be resold and used by someone else. The new Activation Lock feature will prevent this by requiring the correct Apple ID and password for an iPhone to be reactivated—even if it's been reset.