1. Aliph Jawbone Icon
The Aliph Jawbone Icon ($99) not only offers best-in-class audio, a slim profile, and 6 stylish designs to choose from, it also has an internal programmable chip that allows users to alter the functionality of the headset via "apps," which can be downloaded from the Jawbone MyTalk website. The apps do things like change the device's computerized voice or map speed dial numbers. For iPhone users, the chip also allows the headset to add a battery icon next to the iPhone's battery icon on the home screen—a nice and helpful feature.
The Icon features Jawbone's best-in-class ambient-noise canceling technology, called NoiseAssassin. Only the Plantronics line of headsets comes close in terms of quality. The headset is small in size, weighing a slight 03 ounces and has a length of 1.77 inches. It is available in 7 stylish designs, each with their own names: Ace, Rogue, Hero, the Catch, the Thinker, the Hero, and the Bombshell. The styles also correspond with different computerized voices that come with the headset, but which are also changeable via the aforementioned "apps." The headset can be worn with or without an earloop (a curved piece of rubber that fits around the ear).
The Aliph Jawbone comes with a good amount of accessories, including 1 earloop, 3 different sized earbud with loops, 4 different-sized regular earbuds, a MicroUSB cable, and an A/C Wall adapter.
Helpful Links:
Official website for the Jawbone Icon
Amazon.com: Aliph Jawbone Icon $99
2. Plantronics Voyager Pro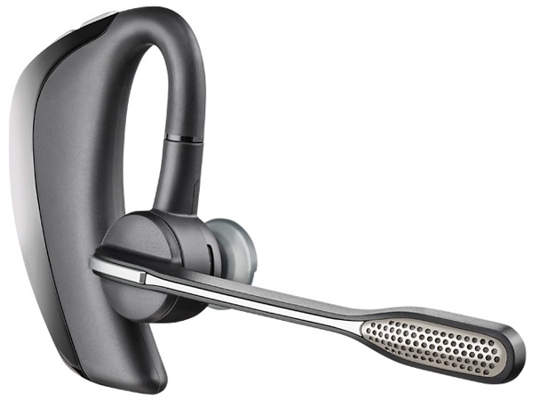 The Plantronics Voyager Pro ($45) focuses on performance, offering the best overall audio quality and battery life of all Bluetooth headsets. But to achieve that, it sacrifices in the area of size (it's bulky due to its large battery pack). The Voyager Pro has two methods of noise cancellation. First, its dual microphones are covered with several layers of wind screens, and there is also an electronic noise filter. The headset also uses ambient-noise canceling software that does the best job of removing background noise of all Bluetooth headsets. The headset's microphone boom is flexible and can be repositioned to bring it closer to your mouth.
The Voyager Pro gets excellent battery life at 6 hours of talk time and 120 hours of standby. This is due to it's large battery pack that sits behind the ear and adds extra bulk to the headset. The Voyager Pro comes with 3 earbuds, 2 foam earbud covers, and a wall charger with an attached USB connector.
Helpful Links:
Official website for Plantronics Voyager Pro
Amazon.com: Plantronics Voyager Pro $45
3. Aliph Jawbone Prime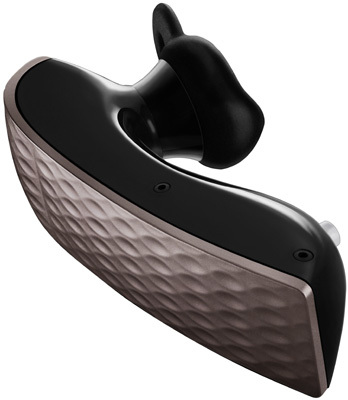 The Aliph Jawbone Prime ($35) upholds the tradition of Jawbone headsets as the gold standard of the industry. At the forefront is Jawbone's Noise Assassin noise-cancellation technology that removes ambient noise from the microphone, allowing your voice to come through clear. The Jawbone Prime is a small and stylish headset, and is relatively lightweight at only 10 grams. It's available in 7 colors, including the traditional black. The Prime's surface has a matte tone and is covered with a textured pattern of small ovals. It offers 4.5 hours of talk time along with 192 hours of standby and is packaged with a good range of accessories, including 2 earloops, 6 earbuds of 3 sizes, a USB cord, and a wall charger.
Helpful Links:
Official website for Aliph Jawbone Prime
Amazon.com: Aliph Jawbone Prime $35
4. BlueAnt Q1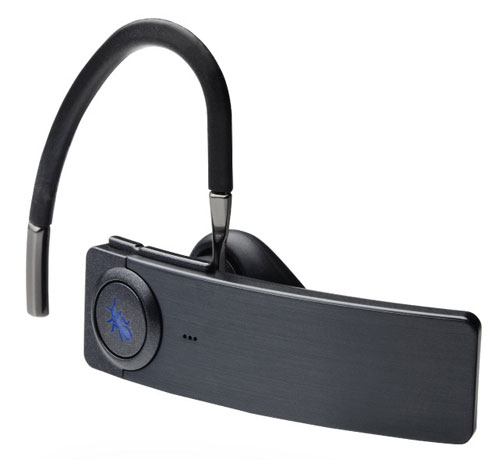 The BlueAnt Q1 ($30) is a dual mic headset that offers 4 hours of talk time and 120 hours of standby. Its standout feature is its voice-control interface, which can accept voice commands such as "Answer," "Call Speed Dial 1," and "Check Battery." It also has an excellent voice tutorial system that removes the need for reading an instruction manual. The voice tutorial can walk you through basic actions like how to pair the headset for the first time. Commands like "Teach me" or "What can I say?" will result in having the available options spoken to you.
The headset's sleek and thin design is also a standout feature, looking unobtrusive in the ear. The headset's only downsides are that its microphone faces only one direction and cannot be repositioned, and its noise cancellation technology is good but not up to par with the Jawbone or Plantronics. The Blueant Q1 comes with an earloop, two different sized earbuds, a USB charging adapter, and a wall adapter.
Helpful Links:
Official website for the BlueAnt Q1
5. Griffin SmartTalk Bluetooth Earpiece
The Griffin SmartTalk ($45) is most notable for its value—it performs solidly (but not great) in almost every category and is available at an affordable price. The SmartTalk's best feature is its svelte form factor. It's thin and lightweight, and its matte black color is simple and unobtrusive. The headset offers good ambient-noise cancellation, but the overall voice quality is only average at best. In a nice touch, the SmartTalk has computerized voice prompts for various actions like "Call accepted" and "Call rejected," although there are some complaints that the computerized voice sounds a bit muffled at times. Due to its small size, the headset only offers 4 hours of talk and 110 hours of standby. The SmartTalk comes with 3 different-sized earbuds as wel as a wall charger and a USB cable.
Helpful Links:
Official Griffin SmartTalk website
Amazon.com: Griffin SmartTalk $45
6. Aliph Jawbone II Bluetooth Headset with NoiseAssassin
Those looking for a bargain should consider the Aliph Jawbone II ($60), the predecessor of the latest Jawbone Prime headset. The Jawbone II is a Bluetooth 2.0 headset that offers superb audio performance in a small, sleek package. The headset weighs only 10 grams and is 2 inches long and 0.5 inches wide. The body of the Aliph has a modern sleek look and is slightly curved with a subtle diamond pattern on its surface. To keep it in place, the headset uses an earloop that wraps around the ear in order to keep it snug. The Aliph comes with 4 loops and 3 different sized earbuds.
Where the Jawbone II really makes it mark is its noise cancellation techology. The headset can be used in noisy rooms with very little of the exterior sound making it through to the caller. The main drawback to the Aliph Jawbone is battery life, offering only 4 hours of talk time (but an excellent 192 hours of standby). The Aliph's small size restricts the size of the battery inside, and the result is less talk time than that of larger headsets.
Helpful Links:
Aliph Jawbone $60 at Amazon.com
6. Plantronics Voyager 520 Bluetooth Headset
The Plantronic Voyager 520's ($30) best feature is its long battery life—it's a talker's headset. It supplies 8 hours of talk time and 180 hours of standby time. The 520 is an affordable Bluetooth 2.0 headset and can maintain a connection with the iPhone up to 30 feet away. It weighs 16 grams and features a rubber and plastic earloop to keep it in place. The Plantronic 520 comes with a wall charger plug a small desktop dock for convenient storage and recharging. The headset offers above average noise-cancellation only bested by more recent Plantronics and Jawbone headsets.
Helpful Links:
Official site for Plantronics Voyager 20
Amazon.com: Plantronics Voyager 520 for $45
8. Plantronics Discovery 975 Dual-Mic Noise Canceling Bluetooth Earipiece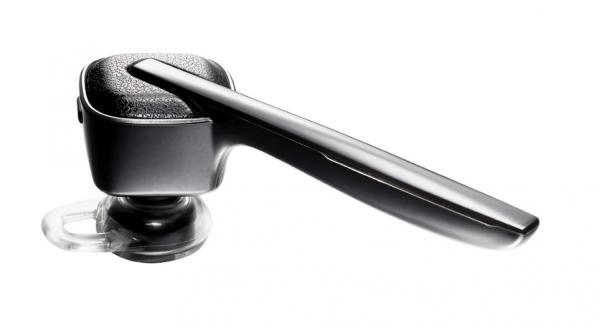 The Plantronics Discovery 975 ($65) comes with 2 killer features: a thin, stick-like microphone stem and a leather carrying case with its own batteries that fully recharges the headset up to 2 times. With its thin shape, the Discovery 975 has the smallest and thinnest form factor of any Bluetooth headset we've seen yet. It comes with 2 buttons: a power/call button and a volume button that lets you cycle through 3 volume settings. The headset itself offers 5 hours of talk time and 168 hours of standby, but the leather carrying case gives an extra 10 hours of talk time. The 975 does not come with earloops, but instead uses an unusually shaped clear silicone eartip to keep it in the ear canal. It also supports Bluetooth 2.1.
Because of the leather carrying case, the main downside of the Discovery 975 is its price. It comes with 3 eartips of different sizes and a wall charger.
Helpful Links:
Official website for Plantronics Discovery 975
Amazon.com: Plantronics Discovery 975 $130
9. BlueAnt V1 Voice Control Bluetooth Headset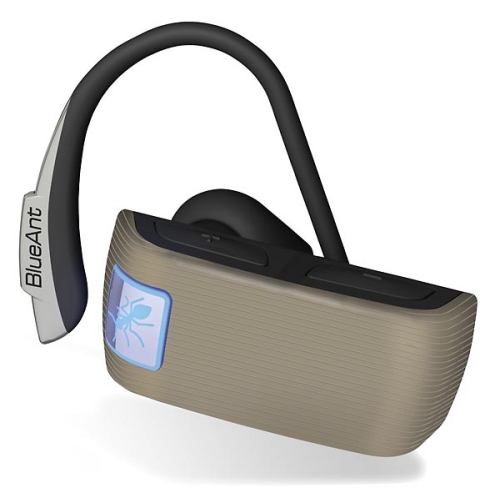 The BlueAnt V1 ($65) bluetooth headset's killer feature is its voice prompt system. The technology, called Blue Genie, offers not only voice speed dialing but lets you issue commands like "check battery, ""pair me," or perhaps the coolest, "Call GOOG-411." The V1 offers a good 5.0 hours of talk time and an excellent 200 hours of stand by and has solid ambient noise cancellation technology. Its biggest drawback is probably its chunky form factor, although on the positive side, it's also very small. Also on the positive side is its earloop, which keeps the headset snugly in place and may be better for those who have trouble with earbud-only headsets. The BlueAnt V1 comes with a mini-USB cord, wall adapter, car adapter, and 2 flexible earloops (black and clear).
Helpful Links:
Official website for the BlueAnt V1
10. BlueAnt Wireless Z9i Bluetooth Headset
The BlueAnt Wireless Z9i ($55) has a small form factor and offers 5.5 hours of talk time and 200 hours of standby. The Z9i is notable in that it can connect with up to 2 devices at the same time, allowing you to switch to whichever phone you want to take a call with. The headset also offers above-average microphone noise cancellation. The headset is Bluetooth 2.0 and comes with 2 earhooks (black and transparent), 2 earbuds (small and large), USB cable, and wall charger.
Helpful Links:
Official website for the BlueAnt Wireless Z9i
10. (tie) iVoice Diamond-X Dual Mic Bluetooth Headset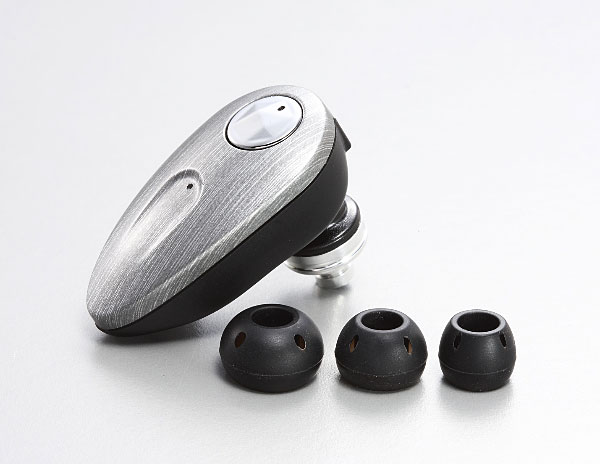 The iVoice Diamond-X ($75) offers 5.5 hours of talk time and 200 hours of standby. But its most notable feature is a voice system that reads the names of callers who are in your iPhone contacts out loud. If the caller is not in your contacts, it reads just the phone number of the caller. The headset is small and lightweight and does a better than average job of eliminating ambient background noise. It is available in 4 colors (chrome, black, red, and brushed metal) and comes with a flexible USB cord, wall charger, car charger, 2 earloops, and 6 earbuds in 3 different sizes.
Helpful Links: