iOS 4 brought with it a new way to make playlists on the iPhone, replacing the clunky "On the Go" playlists from the previous version of the iPhone software. Now, playlists can be created, named, edited, and synched back to iTunes. Here's how to create a playlist on the iPhone:
How to Create an iPhone Playlist
1. Tap the iPod app to open it:

2. Tap the
Playlist
tab at the bottom of the screen:
Note: If there is is no menu bar at the bottom of the screen, tap the back arrow in the top left corner of the screen. Or, if Playlist doesn't appear in the menu bar at the bottom of the screen, tap the More button, then select it from the choices.
3. Tap Add Playlist: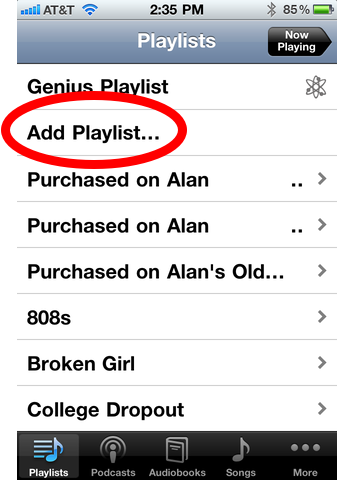 4. Enter a name and tap Save:
5. Add songs, podcasts, videos, etc, to the list by tapping the name or the blue circles:
Tip:
Bring up the search bar by swiping down on the screen. You can also add podcasts, audiobooks, and videos.
6. Tap Done when you are finished: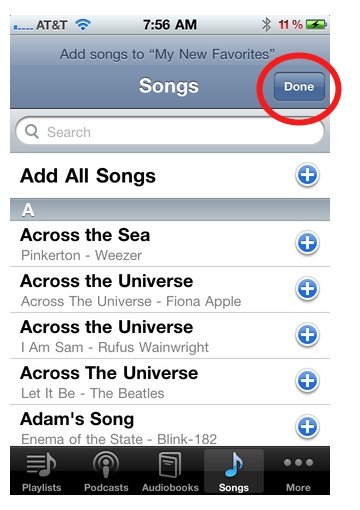 And that's it. You've created a playlist. If you made any mistakes or would like to change the order of the songs, you can now edit the playlist. Follow the steps below.
How to Edit iPhone Playlists
1. Select a playlist:
2. Tap Edit:
3. To delete a song, tap the red circle and then tap Delete:
4. To rearrange the order, tap and hold the three lines on the right side, and drag and drop: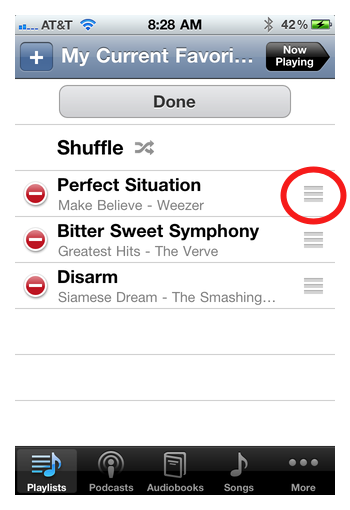 5. To add more songs, tap the plus sign in the top left corner:
6. Tap Done when finished:
Be sure to check out more of our iPhone Basics.