Radio Alarm ($1.99) is a beautifully designed alarm-clock app that can run in the background and wake you up with your favorite radio station or iPod music. But that's not all it does, as it has a nice set of complementary features, including a sleep timer, soothing nature sounds to go to sleep to, and Retina Display-friendly graphics.
Although you probably shouldn't rely on your iPhone to wake you up every morning (a lot can go wrong), Radio Alarm has quickly become my favorite app to do so. The app supports a local Chicago station, WBBM, I like to listen to in the morning. So it's nice to have the station fade up in volume to gently wake me until I'm ready to hop out of bed. And if I want to keep listening over my morning coffee, I just carry the iPhone with me.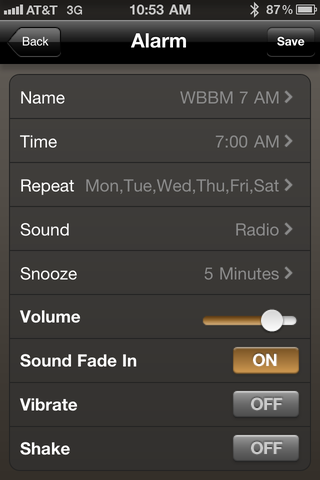 The app supports multiple alarms, in case you want to quickly switch between alarms or have a significant other who has a different wakeup time. You can give each alarm a name, and assign it a specific radio station, music from your iPod library (you can create a playlist of up to 100 songs), or one of the sounds included in the app to go off at a set time.
A nice touch in the app is that you can set any combination of days of the week for the alarm to go off. For example, you could create an alarm that only goes off only Mon-Fri, or Sat and Sun, or Mon, Thurs, etc.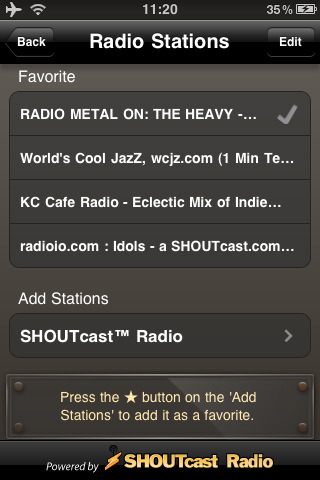 The app uses the Shoutcast directory of online radio streams, which features over 30,000 stations. It's not the most extensive catalogue in terms of local radio stations (many are online stations), but there is a free Shoutcast app in case you want to see what's available before you buy.
For its visual design, the app takes a retro approach, featuring a wood theme, old-school dial clock face, and knobs. But the knobs aren't turned, but rather tapped, to switch them on or off.
The main screen of the app packs in a lot of info and functionality, maybe too much, as a bigger clock face would be nice (some of us have poor eyesight). Besides the clock face, shown are the year, month, day, and day of the week. There are the aforementioned 3 knobs for alarm, radio, and sleep, and also 2 dials for volume or screen brightness. Toward the bottom is a display for the current radio station/mp3/sound and a button to access the app's settings.
In a thoughtful design touch, the app also has a Power button on the main screen that completely shuts down the app, meaning it will no longer run in the background. We enjoyed this feature, as it means you won't have to go through the iPhone's laborious process for truly shutting down apps, where you double click, hold your finger down on the app's icon, etc.
The app has a few other interesting features, including the ability to record your own sound to wake up to within the app (which could lead to a few good practical jokes), vibrate for alarms just in case you have the sound turned off, and a shake-to-snooze option for when you're too groggy to operate the iPhone.
Conclusion
Radio Alarm ($1.99) is a beautifully design app that can run in the background and wake you up to your favorite radio station or iPod music. The app is chock full of features to explore and nice little touches that show a lot of thought has gone into the app. We like it so much, it earns a spot on our Best of iPhone Apps list.