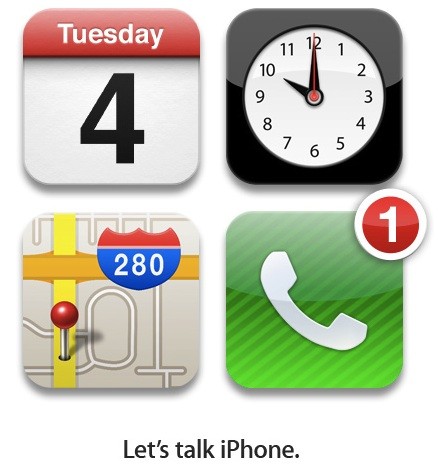 Rumors have been creating the anticipation for months now, and now Apple appears set to introduce its next iPhone. The company has officially sent out invitations to select media outlets for an event to be held on Apple's Cupertino campus on Tuesday, October 4. The invitations come with the tagline, "Let's talk iPhone," leaving no doubt what the focus of the event will be.
The invitation (seen above) features four app icons: Calendar displaying the event's date (Tuesday the 4th), Clock showing 10:00, Maps showing a pin on Apple's Cupertino campus, and Phone with a 1 red badge.
As always with Apple's invitations, some are trying to find hidden meaning within the invitation. Does the "1" on the badge signify there will be only 1 iPhone introduced instead of the rumored 2? Does "Let's talk iPhone" with no mention of iPod, at a time of year when we usually talk iPod, mean that there will no longer be an iPod touch, just an iPhone sans contract? Is the Maps icon meant to signify a big change to the maps feature, maybe even the dropping of Google Maps for Apple's own service? Does the fact that there are 4 squares mean they are buying FourSquare?
I admit I will be disappointed if a redesigned iPhone isn't announced, as I was with the iPhone 3GS. But all the incredible changes in iOS 5 may be enough to keep me excited for any new hardware, even if it looks the same.