Konnet's iCrado ($29.99) is a sleek and stylish cradle that provides a comfortable upright resting place for your iPhone while it syncs or charges. It works with any version of the iPhone (first gen, 3G, and 3GS). The iCrado is pretty bare when it comes to extra features—its sole functionality is to serve as a stand. It does not come with an iPhone-compatible USB cord, so you'll have to provide your own (you can use the cord that comes with the iPhone, or Amazon sells for them for as cheap as $3).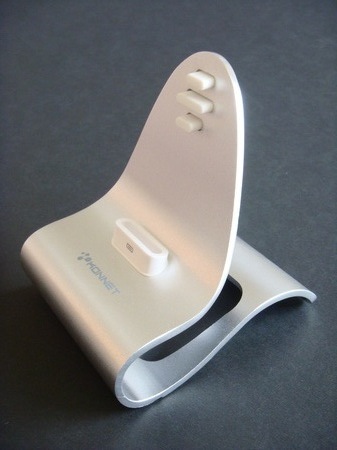 To connect the iCrado to the computer for synching, the USB cable is routed through the iCrado's back port and secured in place with a small plastic clip. I was initially concerned about the durability of the plastic clip, but after removing the cable several times, I'm convinced it will hold up well.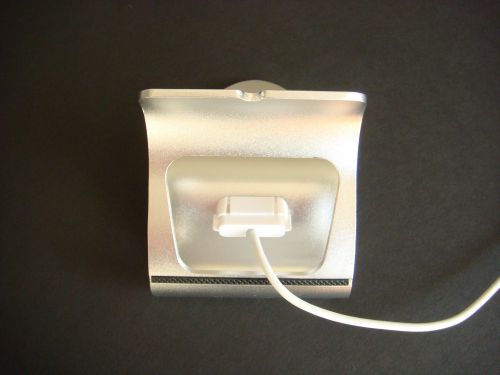 The iCrado comes in black or silver; a variety of additional colors, including orange, green and blue, are available as limited editions. Again, the dock is compatible with all iPhone models.
Out of the box, I was surprised by two things — the iCrado is lighter than I anticipated and the silver color has a glittery finish that is not apparent in the manufacturer's product pictures. It's not bad, but I was expecting a smoother finish. While lightweight, the iCrado still feels reasonably solid. Setting up the dock is a snap, and I had my USB cable attached within minutes.
Once the cable is attached, the iCrado feels a little wobbly. There's a small cutout on the back so the stand doesn't sit on the cable, but the iCrado isn't heavy enough to sit squarely with the cable attached. Once the iPhone is docked, however, the stand feels much sturdier. Docking the iPhone is easy, and I was happy that I didn't have to remove my iPhone case. Unless you have a very thick iPhone case, you shouldn't have any problems leaving it on.
There's not much to say about the charging process, since… well, the process works the same as it does without the iCrado, especially since you're using your own cord. I will say that my iPhone looks quite at home while sitting quietly in the dock.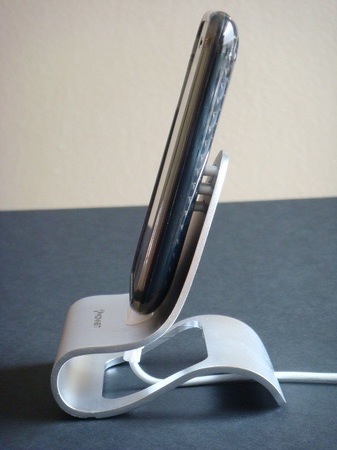 Konnet claims that the iCrado enhances speaker quality using an "Advanced Reflex" design, and music does sound significantly better than it does with the iPhone flat on a table. I don't think this is specific to the iCrado, however; music probably sounds better on any forward-facing dock that doesn't block the speakers.
Conclusion
Overall, the Konnet iCrado is a nice-looking iPhone cradle that works well. It's significantly cooler and better looking than Apple's $30 iPhone dock, which also ships without its own USB cord. But let's face it, products like the iCrado are not "must haves." It may be nice to have your iPhone sit upright while charging, but it's hardly a necessity. As a result, I think the iCrado is a bit overpriced at $30 — $15 to $20 seems much more reasonable for an iPhone stand. Still, it is better looking than many competitors in its price range, so we rate it an 8 out of 10, recommended.