80
Warning: Please be sure to transfer (backup) the photos currently on your iPhone to your computer first before following the instructions below. Windows users can do this with the Camera and Scanner wizard. Mac users can use iPhoto.
1. Connect the iPod/iPhone to your computer and launch iTunes.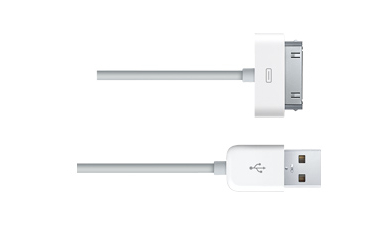 2. Click on your iPod/iPhone icon in the left sidebar: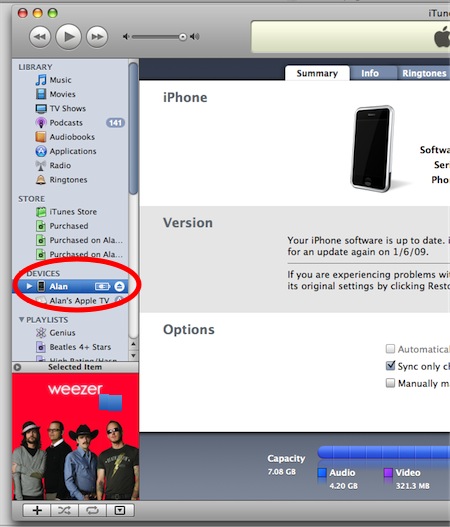 3. Click the Photos tab at the top center:

4. Make sure the "Sync photos from" box is checked, then click on the drop-down menu:

5. Select the source of your photos, such as the folder in which they are located:

Once you select a folder, you can sync all the photographs in that folder to your iPhone or iPod. You can also use subfolders to help organize and sync only certain photos you want on the iPhone/iPod. Note that this works for only one level of subfolders. If you create a sub-subfolder, it will not show up in Tunes.
Subfolders will show up as individual photo albums in iTunes, You can then check or uncheck each folder in order to sync them or not.
Tip: Give your subfolders names, like "Family", to help keep your images organized.
Notes:
Windows users can also sync from Adobe Photoshop Album 1 or Adobe Photoshop Elements 3.0. If you have these programs installed, they will automatically show up in the iTunes dropdown menu under the Photos tab.
Mac users can sync from iPhoto. Any albums created in iPhoto will show up in iTunes under the Photos tab.
An alternative way to put a photo onto your iPhone is to email it yourself. Access the email on the iPhone, open the photo by tapping on it, then hold your finger on the photo for a few seconds until a menu pops up. Choose Save Image.