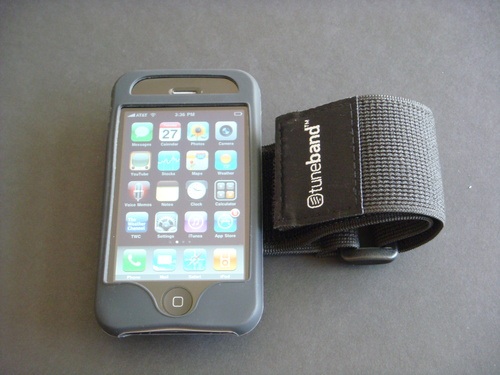 Although it pains me to say it, I think the iPhone is an imperfect running partner. It's just too big and bulky to compete with the iPod shuffle or nano when it comes to listening to music on the run. That said, if you need to carry both a cell phone and an iPod while you exercise, the iPhone makes sense. The Grantwood Technology Tuneband (>$15) performs so well that it has made me rethink my aversion to running with my iPhone.
The Tuneband is an iPhone accessory for the 3G and 3GS; a separate — and cheaper — Tuneband is available for the first-gen iPhone. The two-part Tuneband features both a silicone iPhone case and a velcro armband. Unlike some iPhone armbands, the Tuneband doesn't have an integrated vinyl screen protector. Instead, it ships with a stick-on screen protector, which is fine as long as you don't get caught out in the rain. I actually prefer this type of protector, as the vinyl protectors can make it hard to navigate the iPhone's touchscreen.
The case is stretchy and very pliable, and it includes cut-outs for the camera lens, earphone port and bottom speakers. The volume controls are left covered, but the silicone case has raised buttons so you can still get a tactile feel for the buttons.
I was hoping to keep my existing case on while I used the Tuneband, but when I did, the cut-outs didn't line up correctly. Not a huge deal, but I hate having to constantly remove my iPhone case. As an alternative, you can always use the Tuneband case as your permanent protector so you don't have to swap cases each time you go for a run.
I have thin arms, and the Tuneband was almost too big. Luckily, I was able to overlap the velcro a little to get the strap to its maximum tightness setting. My husband, who has significantly thicker arms than I do, also tried on the Tuneband and had no trouble getting a comfortable fit. As long as you tighten the Tuneband appropriately, it stays in place while running. I felt the need to retighten it occasionally, but overall I was pleased with its performance. There's no denying that the iPhone is a very big gadget to wear on your arm, but the Tuneband does a good job of making it as comfortable as possible. Just keep your expectations in check — the iPhone is never going to feel as lightweight or comfortable as the iPod shuffle.
On a side note, I have to give Grantwood Technology props for its stellar customer service. After I ordered the Tuneband, I received several emails updating me on the status of my order — it's proactive service like this that makes for happy customers.
Conclusion
I had low expectations for the Tuneband, so I was pleasantly surprised when I grew to really like this armband. I readily admit that I have a bias against running with the iPhone, but this armband has changed my tune a little. I still think the iPhone looks ridiculously huge on my arm, but the Tuneband is comfortable and it doesn't bounce.
I'm not about to give up my nano for running, but I'll use the Grantwood Technology Tuneband whenever I need to run with my iPhone. We rate it an 8.0 out of 10, recommended. If your iPhone suffers a lot of abuse while exercising, an armband with a full screen protector may be a better choice.