If you've ever tried to study, read, or fall asleep in a noisy place, you know how frustrating it can be to concentrate on the task at hand. White noise and relaxation apps can help you block out annoying outside noises, but they're also useful if you just need some help relaxing at the end of the day. The iTunes App Store has a plethora of relaxation apps, and these are our picks for the best white noise apps.
1. White Noise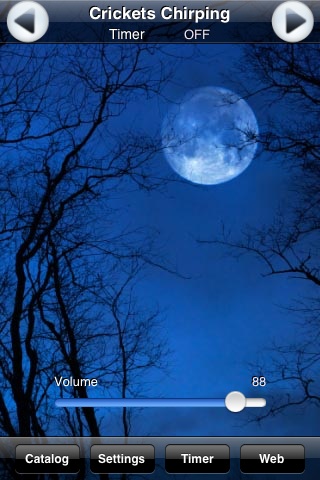 The White Noise app ($1.99) has 40 sounds to choose from, including popular favorites like beach waves, crickets, thunderstorm, city streets and more. The app also includes more obscure sounds like air conditioner, vacuum cleaner or hair dryer. I'm not sure who would want to listen to those, but they're there if you want them.

Unlike a number of other relaxation apps, White Noise has manually adjustable balance and pitch settings. You can also set a timer so the sounds turn off after a certain time. Everything works like it should with this app, and the interface is one of the simplest and easiest to use, which makes it our top pick.
Overall rating: 8.5/10
2. Sleep Machine
Sleep Machine ($1.99) includes 54 ambient sounds and seven music tracks, and you can choose three to mix together to create your own unique sounds. What's great about this simple, easy-to-use app is that you can manually adjust the volume of each sound so they don't drown each other out. The loops also flow together better than on some of the other relaxation apps tested.
Sleep Machine is incredibly easy to use, and it also includes a timer. Overall, I was very impressed with this app, especially because I could individually adjust the volume of each sound. I also found that it blocked outside noise better than most of the other apps. My only complaint is that so many of the sounds are incredibly similar – do you really need air conditioner, air purifier, bathroom fan and dehumidifier? So while it looks like there are lots of sounds at first glance, that number is a little deceptive.
Overall rating: 8/10
3. iRelax Melodies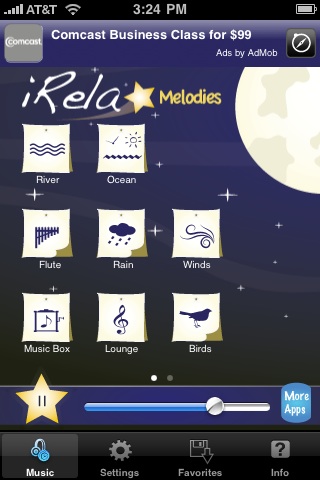 iRelax Melodies (free) is a visually appealing app, even with the ads. While it doesn't have as many sounds as other relaxation apps, the sounds it does include are top-notch. The app also allows you to easily mix sounds together with just a tap. There are 16 sounds to choose from.
I was really impressed with some of the sounds, with piano being one of my favorites. It sounds deep and rich with a great melody. The other noises are equally stellar. What's unfortunate is that you can't individually adjust the volume for each sound like you can with Sleep Machine. So while some of the combinations are great, the sounds tend to drown each other out. Some of the loops also seem a bit too short. iRelax Melodies is free for a limited time.
Overall rating: 7.5/10
4. aSleep
aSleep ($0.99) won't win any design awards for its interface, but its simplicity makes it a pleasure to use. If you're like me, you just want to open the app, select a sound and not have to mess with it again. aSleep lets you do exactly that, and it also includes a timer, auto-play and 'shake to shuffle' functionality.
aSleep has 47 sounds, including all the popular favorites. It also offers some interesting music sounds like didjeridoo and exotic sarod. While I'm not entirely sure what they mean, they sound good, although the loops are too short. Oh, and the waterfall sounds like a 747.
Overall rating: 7.5/10
5. Ambiance
The Ambiance app ($0.99) has excellent sound quality, with noises that sound clearer and more distinct than the other white noise apps. However, it's not as user friendly as the relaxation apps we rank higher. The app comes with three preloaded sounds – large wind chimes, loons, and rain and thunder – and there are hundreds more you can download for free. This gives you lots of choices, but I didn't like have to search for and download individual sounds. (Note: Ambiance used to make you register to download new sounds, but that's no longer the case. Sounds can be downloaded directly in the app.)
There are some cool features though – you can request sounds not included, create sound mixes and shuffle sounds you've downloaded. Even so, it's hard to get over the download part of this app, which is a real drag.
Overall rating: 7/10