These images of iPhone 5 "spyshots" come from website iPhone Release, who has not been a reliable source for anything in the past. While these images are likely fake, there are a few interesting details to take note of.
First, the missing moved mute switch (see photo below) seems to match the leaked iPhone 5 case diagrams from a few weeks ago. Second, the screen goes edge-to-edge and appears to match the rumored 4-inch size for the iPhone 5. Third, the entire frame of the phone seems to be made out of raw aluminum, again matching some previous rumors.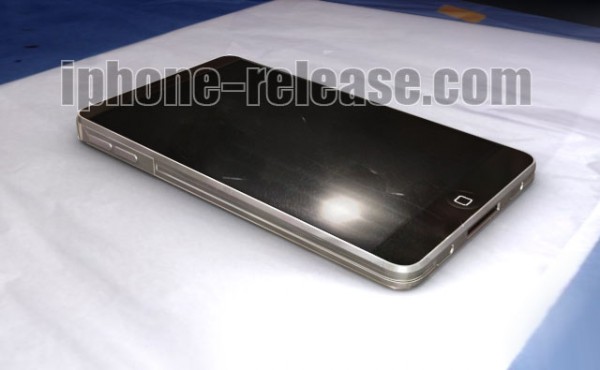 Would Apple release an iPhone framed by ugly unpolished aluminum? Not likely. The metal looks something you'd build cheap camping equipment out of.
This is likely not the iPhone 5, but could it be the cheaper prepaid iPhone, ie, the iPhone 4S? It looks rugged enough to be marketed to third-world markets. Is this the iPhone that's going to be sold in tiny Somalian phone shops, filled with $10 in voice credits, and passed around by villagers for a quick game of Infinity Blade? Probably not.