You may know the iPhone's Spotlight Search feature can be used to quickly find and launch apps, but it can also be used to launch your favorite websites. This can save you a lot of typing and frustration. Web clips, which are simply bookmarks you save to your home screen via the iPhone's Mobile Safari browser, are considered apps by Spotlight Search, and thus will show up when you search for apps. Below are step-by-step instructions on how to create a web clip.
1. Open the iPhone's Safari browser:
2. Navigate to your favorite website, then tap the arrow button at the bottom of the screen:
3. Tap Add to Home Screen:
4. Give the webclip a name that you'll remember when searching for it:
Note: Some websites have an icon that will show up when you create the web clip. For example, ESPN.com will have a nice ESPN logo on the icon.
5. Tap Add in the top right corner:
6. The web clip will now have its own icon on the the iPhone's home screen:
7. To test it out, open up the iPhone's Spotlight Search and enter the name of the web clip: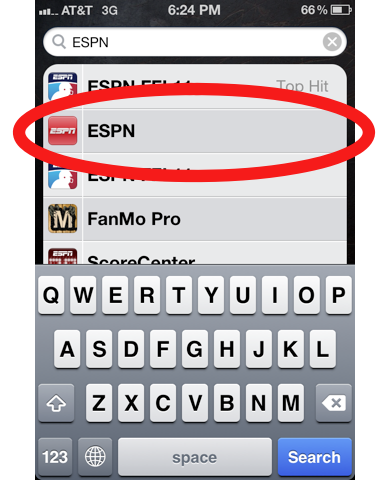 Notes and Troubleshooting:
Did you know you can create web clips that take you directly to an iPhone Setting like your Wi-Fi connection? It sounds bizarre, but it's true. Check out our article on this neat little trick.
Are web clips and apps in general not showing up in Spotlight Search? You need to make sure the settings for Spotlight Search are set to show apps. Read our instructions here.
You can clean up Spotlight Search by preventing emails, contacts, notes, etc, from showing up. Read our instructions here.