As a runner who runs with his iPhone, I purchased the "sweat proof" Motorola S10-HD ($85) wireless bluetooth headphones hoping they'd be a great solution for my long runs. Being wireless and sweat proof made the SD10's seem like the holy grail of headphones for athletes. Sadly, they're not as advertised, and certainly not sweat proof, as after only my fifth sweat-drenching run, one of the headphones shorted out.
And I'm not the only athlete to have the SD10-HD's short out on them. Reviews on Amazon.com are filled with stories of the "sweat proof" SD10-HD's conking out after a few workouts.
I had other problems with the SD10's. The controls, which are located near the eartips, require you to blindly grope for the buttons. The buttons themselves are difficult and awkward to press and can lead to annoying moments when you accidentally call somebody during a run or skip a song when you didn't mean to.
The SD10-HD's also do not use normal eartips. The headphones come with 4 sets of gigantic, clear rubber eartips that rest on the outside of the ear canal; thus, the SD10's aren't true in-ear headphones.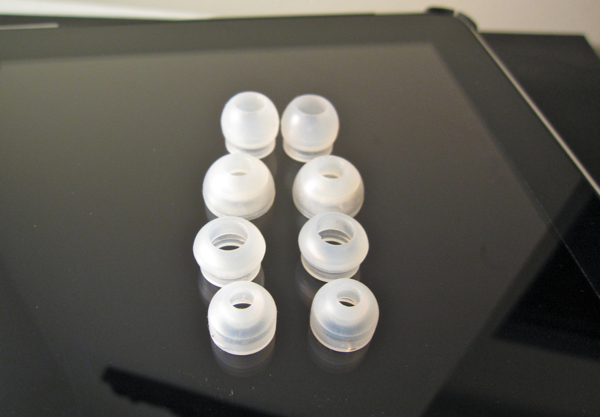 This outside-the-ear-canal design, while comfortable, led to problems when exercising. When sweat runs into the ear canal, it becomes trapped by the ear tips, creating an unpleasant water-in-the-ear feeling. You know that feeling just after you step out of the pool? That's what it feels like 20 minutes into a run with the SD10-HD's.
And it's a shame too, as the headphones have a few attributes that work well for runners. For example, I was surprised how steady and comfortable the headphones stayed during runs—I was expecting them to flop all over the place. And the fact that they are wireless means no awkward cord bouncing or snagging.
The sound quality of the SD10's is also pretty good considering they're both bluetooth and not true in-ear headphones. I would stop short of calling the sound quality great though. They were adequate in bass levels as well as with mids and highs. I did experience some problems with volume levels not being loud enough. The max volume falls short of what even the cheapest headphones are capable of. For most music and podcasts, it wasn't be a problem, but if you have audio that is quiet to begin with, you will have problems compensating with the SD10-HD's volume levels.
I also experienced many problems with getting the headphones to turn off. I'm not sure if I received a faulty on/off button, but 80% of the time I could not get the headphones to shut off by pressing the on/off button and instead just had to let the battery run out.
Review Summary
The Motorola SD10-HD bluetooth wireless headphones did not live up to their athlete-friendly billing nor their high price tag. Motorola advertises them as "sweat proof," but I and many others found them anything but. With its frustrating controls, poor sound levels, and an uncomfortable problem with trapping sweat in the ear, I can't recommend the SD10-HD's to athletes.
The Motorola SD10-HD currently sell for around $60 on Amazon or can be found at Apple Stores for around $85.