The new Do Not Disturb mode is an incredibly useful feature for the iPhone that, when turned on, will silence all calls and notifications. With DND turned on, you won't be suddenly awoken at night by an app's notification or a phone call. You may, however, still want to let some important phone calls through. Below are instructions for how to allow a special group of VIP contacts to call you even when Do Not Disturb is turned on.
Quick Instructions:
Go to Settings > Notifications > Do Not Disturb. Swipe Scheduled to On > select a time range > tap Allow Calls From > select Favorites or another group of contacts (for how to create groups, click here).
Step-by-Step Instructions:
1. Open Settings:
2. Ignore Do Not Disturb, and tap Notifications instead:
3. Now tap Do Not Disturb:
4. Set a time for DND to automatically turn on and off:
5. Tap Allow Calls From and select a group of contacts (see note below if you wish to create a new group of contacts):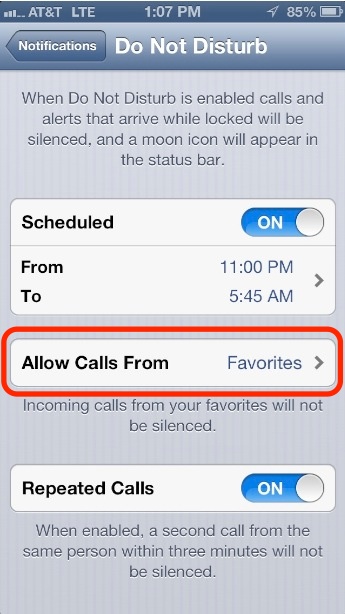 Note about creating groups of contacts: Bizarrely enough, other than adding/removing contacts to the Favorites group, you can't create/edit groups of contacts on the iPhone. However, check out our instructions for alternative methods for creating groups of contacts for use on the iPhone.
And that's it. Please note that this VIP list of contacts will only work when the scheduled version of Do Not Disturb mode is turned on. When you manually turn on DND (see screenshot in step 2), this VIP list will not function.
Bonus Tip: Alarms from the iPhone's Clock app (for example, wake me up at 6:00am) will still sound even when Do Not Disturb is turned on, or even when the mute switch is turn on, for that matter.