6
Is the wrong email address showing up in the iPhone's From: field by default? Here's how to change it. Note that the default email address only works for new emails created in the "All Inboxes" view and in emails created outside of the iPhone's Mail app. For example, in third-party apps.
How to Change the Default Email Account:
1. Tap Settings:

2.
Scroll down and tap
Mail, Contacts, Calendars
:
3. Scroll down and tap Default Account:

4. Tap the account you wish to be the default email address: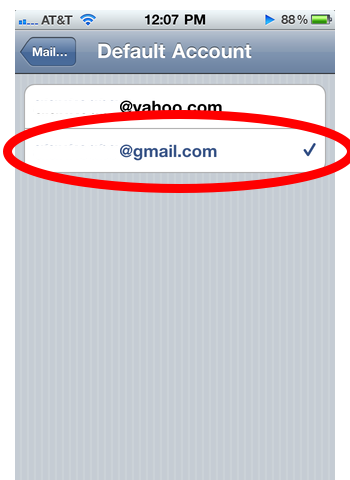 Notes:
The default reply address will only show up when you create new emails. It will not show up when you reply to emails. See the next note for more info.
When replying to email (in other words, when you tap the reply button), the email address that appears in the From: field will always be the address the original email was sent to. For example, if you're replying to an email sent to you at You@Apple.com, then You@Apple.com will appear in the From: field. This is true even in the All Inboxes view. To change the email address, simple tap the From: field and choose from your email accounts.