1. Google Search
Google Search is Google's official iPhone search app that adds some useful iPhone twists to the standard Google search. Chief among them is voice search, which allows you to speak into the app, and Google will turn it into a text search. It's surprisingly accurate. I use it situations where typing is impractical, like while walking down the sidewalk.

But that's not the only trick the app has up its sleeve. A feature called Google Goggles lets you take a picture with the iPhone and submit it as a search query. Google Goggles will recognize brands and products, barcodes, and landmarks like the Eiffel Tower in the photo and return relevant search results. It can even read text in the photos like signs and business cards. It can even solve Sudoku puzzles!
Another neat feature is Google Suggest, which displays results as you type them and often saves you the effort of having to type out your full query. The app also maintains a search history in case you want to quickly revisit recent searches—for privacy concerns, you can easily clear your history in the app as well.
The app also offers access Google's other search products like Google News and Images as well as quickly navigate to Gmail and Google Voice.
2. CNN App for iPhone
CNN is one of the most-visited news sites on the web, and the CNN App for iPhone provides iPhone-friendly access. The app presents headlines and articles in a way that can be read comfortably on the iPhone's screen.
You get access to the full articles, and you watch video clips from the various CNN news programs. The app also features the occasional direct live CNN feed for breaking news stories.
Push alerts for live breaking news will keep you instantly updated on what's happening now. The app also supplies local news stories by collecting headlines from news websites from your area and, when tapped, opens them in the in-app browser.
The iReport feature lets you contribute to CNN's news coverage by allowing your to upload video and photos from your iPhone to CNN's iReport site. You can even record video inside the app. CNN supplies you with "tasks," asking you to give your opinion or info on certain relevant topics. Content from the iReport site is also available for consumption inside the app.
3. The Weather Channel
The Weather Channel app has long been our pick for the best weather app. Its forecasts are accurate (well, as accurate as forecasting gets, anyways), and it has features that other weather apps lack, like 10-day extended forecasts and live weather radar.
The animated weather radar is not perfect—it sometimes takes a minute or two for the data to load. But it can come in extremely useful in certain circumstances, like allowing you to keep an eye on an approaching storm front as you do an outdoor chore.
The app also features video forecasts from The Weather Channel, offering both local and national forecasts. There are severe weather alerts, pollen counts, and even an iWitness Weather feature that lets you upload and your own weather photos and video on The Weather Channel's site.
Overall, The Weather Channel is dependable and provides accurate weather info in an efficient manner. I've been using it for years and see no need to switch to any other.
4. Yelp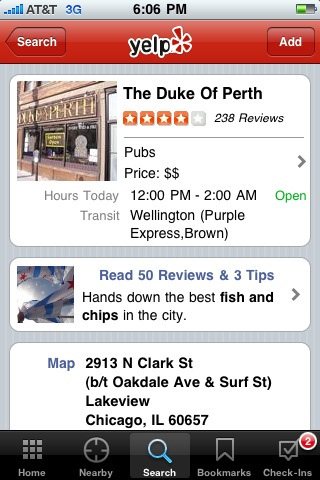 Yelp is mostly known for its user-driven restaurant reviews, but its real usefulness comes in the wealth of information it provides on restaurants and businesses, such as addresses, directions, phone numbers, menus, etc. Even if you don't find the reviews themselves useful (which I don't), they usually can be mined for data like dishes to try or the ambiance of a restaurant.
The Yelp app uses GPS to quickly find nearby restaurants and businesses. The app also offers text search along with filtering tools to help narrow down search results. For example, show only BBQ places, or display results by average meal price, the neighborhood it's in, or other factors. Bookmark places to help you remember them later.
Yelp has also recently expanded to offer special discounts and "check-in" deals, using GPS to quickly supply offers nearest you.
5. Pandora
The Pandora app is like having your own radio station. Simply tell Pandora what artists or genre of music you like, and it will automatically start streaming music from that artist and similar artists, or within that genre of music.
You can give each song a thumbs up or thumbs down, and Pandora will use this info to learn your musical taste over time and serve you more music that you like. Bookmark songs and artists, or purchase the song directly on the iPhone through Apple's iTunes app.
Pandora also recently added comedy selections. Choose a favorite comedian, such as Chris Rock, and get served clips of stand-up routines or comedy skits from Rock and similar comedians. All this for free! (There is the occasional commercials and ads that appear on the screen.)

6. TuneIn Radio
TuneIn Radio lets you replace those old transistor radios for listening to local radio stations. Not only does it offer local radio stations, but stations from across the country. TuneIn Radio offers the most radio stations of any free iPhone radio app.
TuneIn Radio has a simple and elegant interface that makes it easy to find stations. If you don't feel like manually searching for radio stations, the app can find the nearest using the iPhone's GPS. You can also search by categories like talk, sports radio, music, etc.
When you find a favorite station, simply bookmark it to come back to it later. There is also a $0.99 Pro version of that app that lets you record live radio and listen back later on.
7. Sudoku 2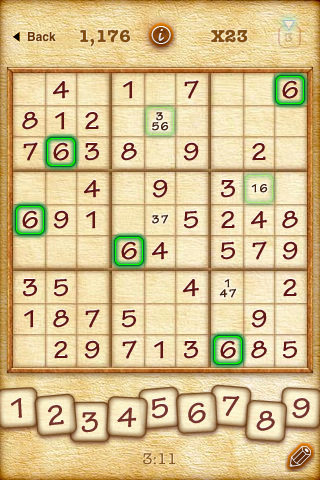 Who doesn't love a good game of Sudoku? Nobody, that's who. Sudoku 2 is the perfect casual game to play on the iPhone, and it's free! It's also the best Sudoku app on the iPhone. And again, it's free! Smooth animations, crisp graphics, and subtle sound effects make it a pleasure to play.
The game offers 4 difficulty levels, but you must unlock each level buy solving a certain amount of Sudokus. There is also a rating system that judges you on how long it takes to solve the puzzle as well as other factors. It also works with an online leaderboard in case you want to compare your scores to others.
The game features 3 different visual styles to choose from.
8. Google Shopper
Google Shopper is a powerful barcode scanner and shopping comparison tool. The app lets you use the iPhone's camera to scan a product's barcode and pull up prices from online stores like Amazon.com, Walmart.com, Buy.com, etc. In a store and about to spend $100 on a pair of shoes? Use Google Shopper to quickly check if it's available cheaper somewhere else.
Google Shopper goes one better than other barcode-scanner apps by allowing you identify products by simply taking a photo—no barcode needed. Google Shopper will identify the product and supply relevant prices and availability. The app also features speech recognition. Speak the product's name, and Google will convert it into a text search.
The app also lets you bookmark products to buy later, find product availability in local stores, and read user reviews.
9. Fluent News Reader
Fluent News Reader is the app I use on a daily basis to get the news. Fluent aggregates the top headlines from major news sources online and presents them in an easily scannable format. Sure, it's not the prettiest of apps, but I've found it the most efficient app for finding and reading the most important news of the day.
Fluent's other killer feature is that, once it loads the day's stories, it makes them available for offline reading. This comes in handy more often than you think. Simply launch the app once, then hop on that plane or train and start reading.
Fluent's default view is the day's Top News, but you can also dig down into topics like Business, Sports, Entertainment, etc.
10. Omnicalc
Omnicalc is a simple calculator with one big feature: it keeps a visible log of each step of your calculations so you can double-check them. Here's another killer feature. Make a mistake? Simply change any number from anywhere in the calculation and the solution will automatically update. That's sweet!
In regular portrait orientation, (with the home button pointing down), Omnicalc is a simple calculator. Turn the iPhone upside down, and Omnicalc becomes a scientific calculator. You can also tweaks the app's look inside the settings.
11. Crackle
Want to watch Seinfeld on your iPhone for free? Crackle streams tons of popular movies and TV shows, including Seinfeld, for free! The app does show commercials during the videos, but fewer than what you'd normally see on TV.
In terms of movie and TV show selection, the app consistently rotates what's available. As of this writing, it's streaming movies like The Da Vinci Code, A Few Good Men, Big Daddy, Ghostbusters I & II, more, and TV shows streaming are Seinfeld, Married With Children, News Radio, The Three Stooges, and more. Overall, there are hundreds of movies and thousands of TV episodes available.
The quality of the video is good enough for iPad or the iPhone. I've enjoyed watching the Seinfeld episodes on my iPad. If you create a free account, you can also set up queues for watching TV episodes in order.
12. Tasker Lite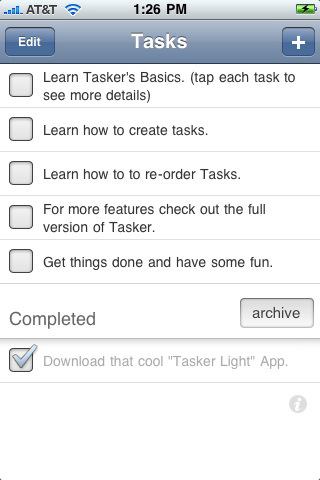 Some to-do list apps for the iPhone are overly complicated, but not Tasker Lite (no longer in App Store. Try Apple's new built-in Reminders app). It offers an efficient, minimalist interface to quickly create a to-do list.
To create a to-do item in the app, simply tap the plus sign, then type in your to-do. To mark an item complete, tap the check box. Any completed to-do will automatically slide down to the Completed section. To remove any item from the screen completely, simply swipe it. Or, tap the Archive button to clear all completed items.
Tasker has a few nice touches too, like smooth animations and subtle sound effects. If you don't like the sound effects, you can turn them off in the settings.
13. TV Guide
TV Guide is the official app from the company of the same name that offers a quick and easy way to find out what's on TV in your area. Simply enter your cable provider and location (or use GPS to automatically discover your location), and it will display TV programming for your area.
The app also lets maintain a list of your favorite channels and track your favorite shows.
Other features include search (search for your favorite shows) and the latest entertainment news.
14. Groups
Groups gives you contact-organization functionality missing from the iPhone's default Contacts app, such as the ability to create and edit Groups of contacts and then send mass emails or text messages those groups.
The app also offers the ability to create Smart Groups, which instantly sorts your contacts by information like whether they're companies, have an email address, etc. A powerful contact app for free!
15. Photosynth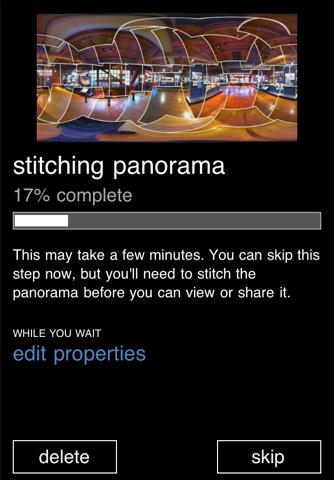 Photosynth lets you quickly create panorama photographs without having to go through the laborious process of stitching together multiple photographs. Instead, Photosynth offers a live view that, using the iPhone's gyroscope and accelerometer, displays a 360-degree grid. Simply move the iPhone around, snap photos on the grid—the app will stitch it all together in a panorama in the live view!
The only downside to this app is that if you want the final photo to be a traditional rectangular photo, you'll need a separate app to crop the irregular edges.
For more great free apps, check out our list of the 200 Best Free iPhone Apps.
You may also like...