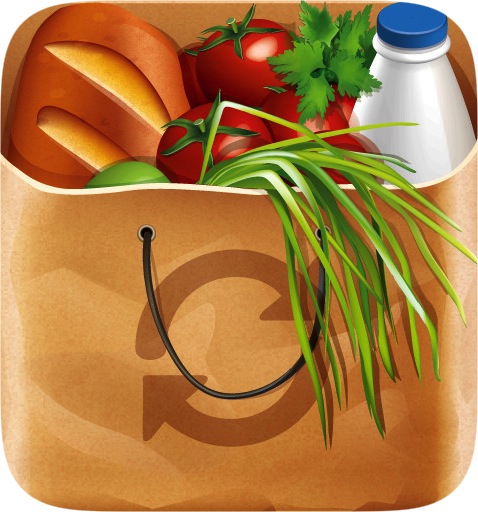 When it comes to grocery lists, some people may ask, why use a specially designed app instead of, say, the iPhone's Notes app, or a good To-Do app, or even a piece of paper? Here are a few reasons:
A grocery list app will save you time, lots of time, typing in grocery items via autocompletion tools that pull from a special database of food names.
A history of old grocery lists stored in the app can help you remember what to buy.
List sharing via iCloud (such as maintaining a single master list between multiple people/devices) or email ("Honey, remember the milk!")
You're more likely to always have the iPhone on you to record spur-of-the-moment ideas.
I've sorted through 13 free grocery-list apps I found in the App Store, and below are the 5 best. All 5 will get the job done, but I've included 3 Editor's Picks, each for a specific purpose.
1. Grocery IQ (Editor's Pick for Best Overall)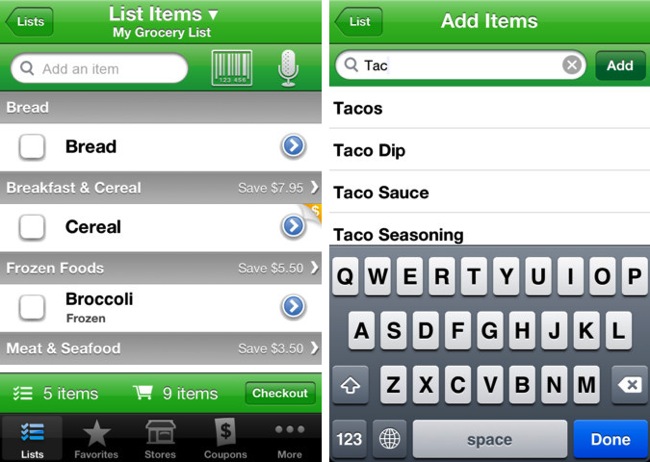 Grocery IQ (free) is the most-popular and most-used grocery-list app, and my top choice for best all-around app. GroceryIQ has been around for a while and has added a lot of new bells and whistles along the way. It also has the largest food-name database, which is continually updated. Some of its features are:
A huge database of food names and brands to aid list creation.
Support for multiple lists.
A barcode scanner to scan foods you have in the fridge to quickly add to your list (I use this a lot).
Voice dictation in case you don't want to type (works on older iPhones too)
The ability to sort items in list by the order of the aisle they are in at your local grocery (you can create aisles from your grocery store).
Share lists by email.
Sync a single list across multiple devices and users.
Coupons that you can email for printing or print out directly from iPhone via AirPrint.
GroceryIQ has it all, and it's fast. If I have any complaints, it's that it's kind of ugly and it suffers a little from feature bloat. But GroceryIQ is the app I use to create grocery lists and has been for years. If you have a family with multiple people shopping for it, the fact that you can maintain and sync a single master grocery list across multiple iPhones and iPads is a huge plus.
2. GrocerEaze (Editor's Choice for Tracking Costs)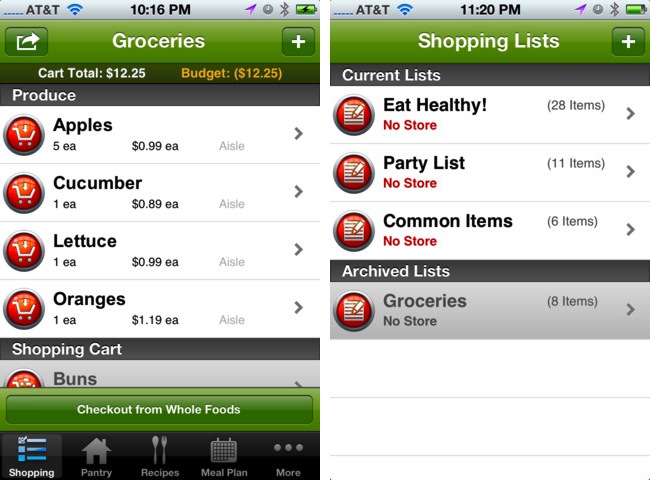 GrocerEaze (free) is for the serious grocery shopper who wants to track costs and stick to a budget. The app's best feature is the ability to add prices to items in the database and add up total costs for each list. And here's the cool thing: you can have prices for different stores. For example, if steak costs $7.99 at Store A, and $6.99 at Store B, you can add both into the database and select a price depending on what store you're shopping at. Features include:
Database of food names and drop-down list as you type for fast grocery list creation.
The ability to add new foods, prices, and photos to food database.
Budget and spend tracking (with ability to add tax rates for individual items!).
Multiple shopping lists.
The ability to create meal plans.
Browsing of recipes and ability to add ingredients to list.
Sharing of lists via email.
GrocerEaze is for the serious grocery shopper keeping a tight rein on food costs. To get the full benefit of this app, users should not mind tapping away at home and in the store to enter in data. Another cool feature is the email sharing that adds a twist. Not only can you email someone a basic grocery list you made, but the app also automatically attaches a file that can be opened and viewed by another GrocerEaze app. Slick!
3. GrocerySmart (Editor's Choice for Easiest to Use)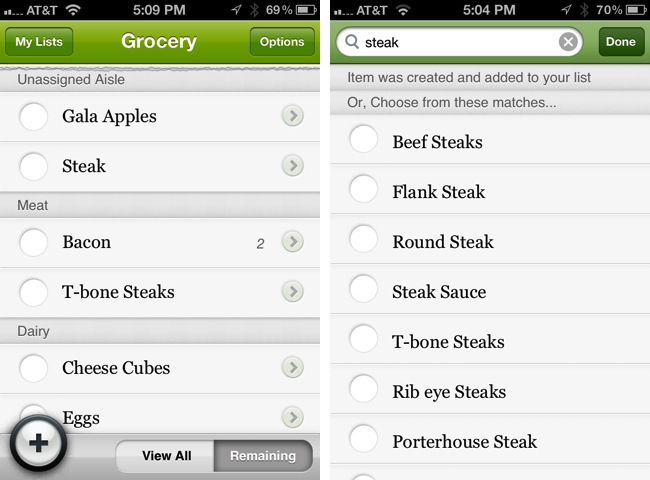 Grocery Smart (free) is the best looking of the apps listed here, and its interface is the easiest to use. Here are the app's features:
A database of food names to make list creation easier.
Support for multiple grocery lists.
Barcode scanner to scan foods in the fridge/cupboard for quick entry.
Built-in loyalty card support for a limited number of grocery stores (enter in your card's number and it creates a scannable barcode that matches your loyalty card).
Ability to sync with an online account, create lists online, and sync back to iPhone.
Share lists by email.
Overall, Grocery Smart is fast and slick, with the easiest to use interface of all the apps listed here.
4. AnyList
AnyList (free) is another simple app, and its interface probably the least cluttered. The main annoyance with this app is that it requires you to set up an account to use. But it's only a one-step process, and after that creating a grocery list is a breeze. Its features include:
Database of food names for quick list creation.
Support for multiple grocery lists.
Sync a single list across multiple devices and users
Recipe database and easier adding of the recipe's ingredients to shopping list.
AnyList is a simple app, and quick and easy to use. My only two complaints are the forced account sign up, and that there's too much spacing around each list item—only 3 list items fit on the screen at a time. But if you're looking for a simple interface, AnyList is it.
5. Grocery Mate
Grocery Mate (free) is one of the more customizable apps on this list. And it's pretty good-looking as long as you ignore the iAd at the bottom of the screen. It also offers cost-tracking features. If the previously mentioned GrocerEaze is too much for you, Grocery Mate is the simpler cost-tracking choice. Features include:
Database of grocery items and drop-down list that makes list creation quick and easy.
Create multiple lists.
Share lists via email.
Ability to add prices to food items.
Maintain history of grocery costs.
Create account, create lists on web, sync back to iPhone.
Customizable look: wood, metallic, leather (default)
My favorite features of Grocery Mate are the ability to get rid of the food categories in list view, which I feel visually clutters up the app, and the easy way to share lists via email in app. The customizable skins are also neat, although one of them (the wood skin) requires you to share via Facebook in order to unlock it (cheesy!).