Apple today announced the iPad mini, a smaller, thinner, lighter, and cheaper version of Apple's iPad tablet hardware. The mini shares much of same specifications of the iPad 2, including the same processor and screen resolution, but it's a much lighter device, and that's really the mini's killer feature. Below is a collection of details on the new iPad mini, including pricing and release date.
Screen. The mini's screen is 7.9 inches diagonally compared with the iPad 3's 9.7-inch display. The mini is not, however, a Retina Display. It has the same resolution as the now "ancient" iPad 2 at 1024×768, but that resolution is packed into a smaller screen, so it has a higher pixel density of 163 ppi compared with the iPad 2's 132 ppi, so it will appear slightly sharper. (163 ppi is the same as the iPhone 3GS' screen.)
Weight. The iPad mini is a much lighter device, weighing a mere 0.68 pounds, 53% lighter than the iPad 3's 1.44 pounds. As an iPad 1 and iPad 3 owner, my lone complaint has always been the weight—it really starts to grow uncomfortable after 20 minutes of use. The iPad mini is a big step toward solving that.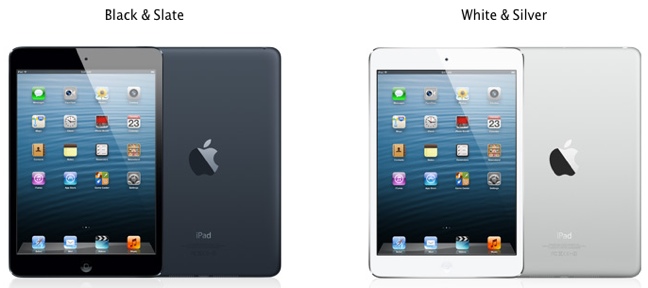 Pricing and Colors. The iPad mini comes in either black or white, with 3 different storage sizes, each with Wi-Fi only and Wi-Fi + Cellular versions. US carriers for the iPad mini are Verizon, AT&T, and Sprint (this is Sprint's first time on an iPad). See the pricing table below.
| iPad Mini Wi-Fi Only | Price | iPad Mini Wi-Fi + Cellular | Price |
| --- | --- | --- | --- |
| 16 GB | $329 | 16 GB | $459 |
| 32 GB | $429 | 32 GB | $559 |
| 64 GB | $529 | 64 GB | $659 |
Preorder and Ship Dates. Preorder starts this Friday, October 26. The Wi-Fi only version ships Friday, November 2. The cellular version ships one week later on Friday, November 9.
Videos. Apple showed off two videos featuring the iPad mini at its event today. The first is a TV commercial (which is great) and the other is the usual video featuring Apple execs explaining the iPad mini. Check them out below.
Other Features:
Dual-core A5 processor (same as the iPad 2)
Supports Siri
Lightning port replaces the old 30-pin connector
Thinner bezel on left and right sides. Apple has updated the iPad's software to cope with the increase in accidental touches the thinner bezel may cause
5-megapixel camera on back with 1080p video recording. Front-facing camera does 720p video and 1.2MP photos
10-hour battery life for surfing web on Wi-Fi, watching video, or listening to music (9 hours using cellular)
Bluetooth 4.0
Wi-Fi 02.11a/b/g/n (802.11n 2.4GHz and 5GHz)
New Smart Covers for the iPad mini ($39). Apple already has a commercial for it (see video below).