38
In the past, a lost cell phone in a stranger's hands might have meant no more than access to bunch of phone numbers. With the iPhone, it could mean access to your email, calendar, contact addresses, personal website info, and much more. But the iPhone's got your back. It's called Passcode Lock, and you can turn it on in the settings menu of the iPhone.
What is Passcode Lock?
Password Lock locks your phone down, allowing nothing but an emergency call until the user enters a four-digit password to unlock it again.
How do I turn on Passcode Lock?
You turn it on in the Settings menu on the iPhone. Go to the General tab, and you'll see a Passcode Lock tab toward the bottom of the screen. Select it.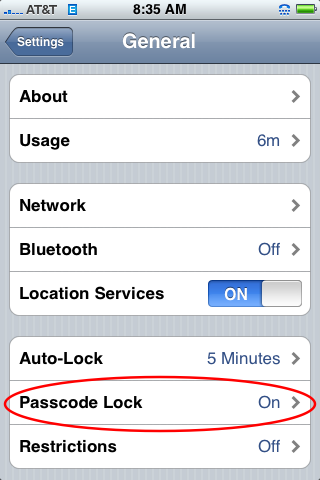 You will be asked to enter a four-digit passcode. Make it one you'll remember!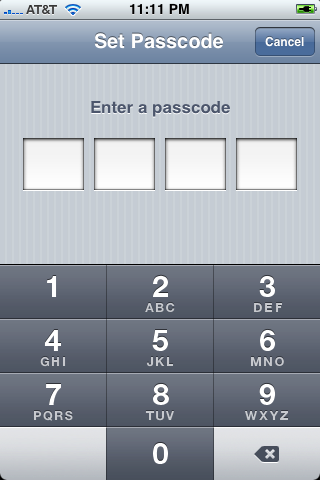 Next, a settings menu for Passcode Lock will appear. You can set how quickly your iPhone locks with Passcode Lock.
What if I forget my password?
If you forget the password, you'll have to go through a restore process by connecting it to iTunes. See bottom of this post for instructions on how to do this.
Can I password protect specific iPhone apps, like email? I don't want to lock down the whole phone.
Unfortunately, you can't password protect individual applications like email. This would make a great feature though, so hopefully Apple will add it in the future.
What's up with the new "Erase Data" feature?
The iPhone 2.1 software has added a new security feature that can erase all the iPhone's data when there are ten failed password attempts. You have to turn this feature on, as it's set to off as a default. As long as you backup your iPhone when you sync it to iTunes (done by default), you should have no worries about the loss of data.
The "erase data" feature can be turned on in the iPhone settings by tapping General, then Passcode Lock, moving the Erase Data tab to On.
How to restore your iPhone if you forget your password:
If you forget your passcode, you'll need to restore your iPhone to factory settings. You'll need to put the iPhone into Recovery Mode by following the instructions below.
Turn off your iPhone by pressing the Sleep button at the top for 5 seconds, then "Slide to Power Off"
Launch iTunes on your computer
Plug in your iPhone to your computer
Press and hold down both the sleep button and the home button
The Apple logo will appear for about 5 seconds, the disappear. When it disappears, keep holding the Home button but release the Sleep button.
Keep holding the home button until you see the restore screen pop up in iTunes:

Click OK and restore it to factory settings.
Once it's done restoring to factory settings and is activated, iTunes will prompt you to restore from your previous backup (from the last time you synched the iPhone).
To browse through more of Art of the iPhone's tips, click here.