It's that time of year again, the crack of the bat, the smell of freshly cut grass, the steroid-powered home runs. Yes, it's baseball season again. If you'd like to add your favorite team's schedule to your iPhone's calendar, the following are instructions on how to do so. (Also check out my article on how to quickly add Holidays as well).
How to Add a MLB Team's Schedule to Your Calendar:
1. Open your iPhone's browser and go to http://www.mysportscal.com/mlb.html

2. Important, Read Carefully: Find your favorite team's iCal icon and hold your finger on it until a pop-up menu appears, DO NOT tap the icon (adding the schedule that way is quicker but has repercussions. See Notes below).
3. Tap Copy (this will copy the team calendar's link):
4. Press the home button and open Settings:
5. Scroll down and tap Mail, Contacts, Calendars: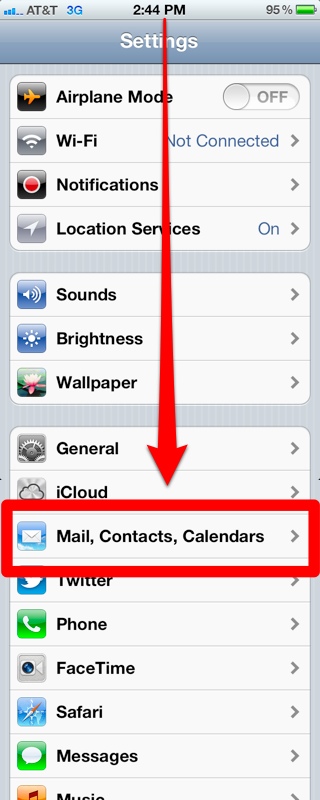 6. Tap Add Account:
7. Scroll down and tap Other:
8. Tap Add Subscribed Calendar:
9. In the field next to Server, paste in your iCal link (to paste, hold your finger down in the field until a pop-up box appears with the paste option):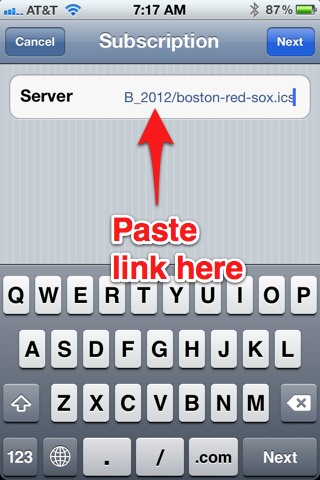 10. Tap Next:
11. Tap Save: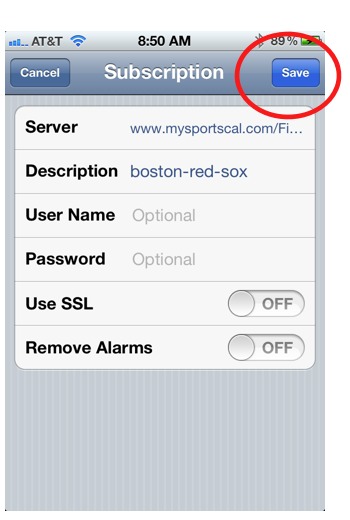 And that's it, you've added your team's schedule to Calendar. Tap a game and check it out. It shows the game's start time, probable pitchers, and even a link to the game on mlb.com. You also may note that your calendar is all clogged up with baseball games. Read on for how to quickly hide all those games (and bring them back).
How to Hide the Games
You may quickly notice that all those games clutter up your calendar. You can quickly hide/show the games with the method below:
1. In the Calendar app, tap Calendars:
2. Scroll down and uncheck the subscribed team's calendar by tapping it: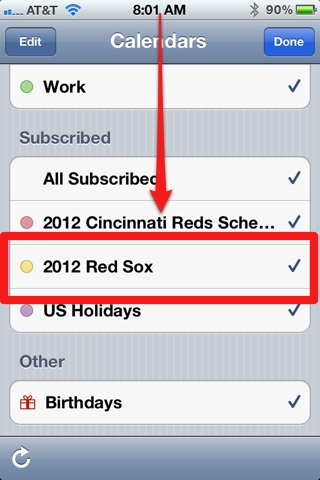 Bam, all the games are now gone from Calendar. Repeat the process to bring them back. You can also completely delete the calendar by going to Settings–>Mail, Contacts, Calendar–>Subscribed Calendars–>Tap the calendar–>Tap Delete Account.
Notes:
As noted in Step 2, I advise against simply tapping on the iCal link at MySportsCal.com and quickly adding the schedule that way. Using that method, you'll have to delete the games one-by-one if they annoy you. My instructions above allow you to remove all the games at once by either deselecting the subscribed calendar or deleting the subscribed calendar all together.